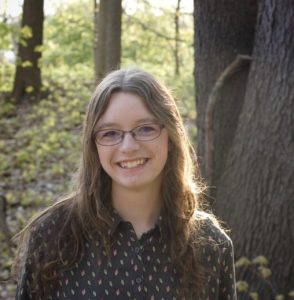 This April we had the pleasure of welcoming new intern Olivia Stafford. Olivia is from Schoolcraft, MI and first heard about the internship through the Biblical Counseling Training Conference held by Faith in 2018. Olivia then heard about the internship again at the same conference in 2020 and decided to apply.  When asked why she chose to become an intern, Olivia shared, "What drew me to the internship was the fact that I would be able to come alongside ladies who are hurting and encourage them in Christ, as the Lord has given me a heart for mentoring and discipleship. I was also drawn to the internship at Vision of Hope when I found out that I can complete my ACBC Biblical Counseling Certification while I am here." Olivia has completed her exams and teaching portions of certification and plans to begin her supervised counseling hours at Vision of Hope in the next couple of months.
Olivia loves being in nature and enjoys gardening, hiking, and kayaking. She also shared that she loves spending time studying God's Word, reading, playing board games, and getting to know people. "It makes my heart happy to hear how God is working in people's lives and what He is teaching them," she shared. One of her favorite verses is Psalm 107:9 which says, "For He satisfies the longing soul and the hungry soul He fills with good things." This reminds her, " that it is God alone who satisfies me fully, and nothing else can fill this God-sized whole in my heart. Therefore, I need to make it my aim to put Him first in every area of my life and seek to let Him fill me and the deepest longings of my heart."
When asked what she is hoping to gain from the internship, Olivia stated that she is hoping to learn "how to counsel Biblically, in a Christ-centered way, as well as learning how to love God better by learning to love others well, die to myself more, and how to accurately represent Christ to those around me, as I am called to reflect Him to those around me and be His ambassador here on earth." Olivia has jumped right in to serving sacrificially, not only on her scheduled intern shifts, but also through taking residents to appointments and pitching in when staff need an extra helping hand. Olivia stated that she is unsure of any future plans just yet, but that she knows she would like to be working in a ministry setting of some kind.
We are so excited to have Olivia serving with us and cannot wait to see what God does in and through her during her time with us. If you are interested in interning with us, you can email voh@faithlafayette.org for more information.