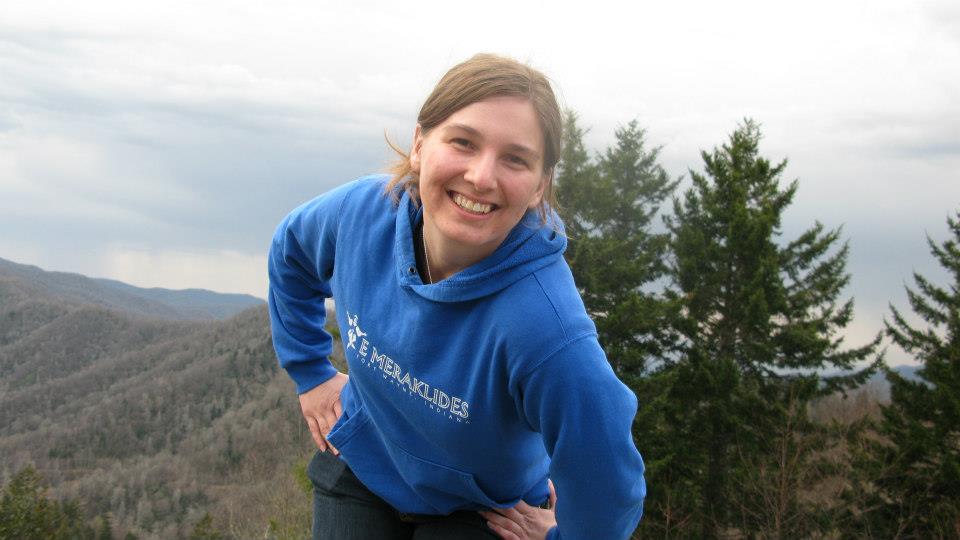 Welcome to the blog! I hope you have your coffee fixed and are ready to dive in to another "meet-and-greet." Today's intern is Liz Kaplanis. Don't fret if you can't pronounce her last name, it's Greek. You can call her "Ms. K" if that helps! Liz moved from Ft. Wayne to the Lafayette area to study at Purdue. Liz could have gone to another school, but Purdue was a school she saw people go in on fire for God, and come out on fire for God. She soon realized that Faith church was a recurring theme in the lives of people she saw loving and living for God. As Liz continued at Purdue and investing herself at Faith, God faithfully grew and blossomed what was sown and planted. Here's her story:
Sitting down on the couch next to Liz, I asked her simply to introduce herself. I asked her to think of this introduction as if it was her first day in youth group or ABF, giving a snapshot of who she is and what she does. "Do I have a weird question to answer too?" Liz replied, with a smile. (You see, in ABFs, Camps, and Youth Groups, you are often asked an "initiation" question of sorts, such as "what's your favorite movie, toothpaste, or carpet pattern?"). For your records, if Liz had a superpower, she would be invisible.
As mentioned earlier, Liz studied at Purdue. She originally went into the biology program, but realized that wasn't what she wanted. She altered her course to study HTM (hospitality and tourism management). Liz was interested in HTM for a couple reasons. "I wanted to work at Disney… but it was also a chance to put other's needs before my own and practically help and serve people. I also simply enjoy cooking and food!"
Going to Purdue, Liz wanted to grow in her relationship with Christ. The solid Christian friends she made—the ones she saw really serving and loving—often came from Faith church. It wasn't long before Liz herself was going to and connecting with Faith church in service opportunities as well as Sunday mornings. During this time, Liz experienced a spiritual growth spurt! "It was the first time anyone really challenged me on my walk with God.. asking questions and holding me accountable… not just 'Did you read your Bible today?' but 'What are you learning, and how are you applying God's Word to your life?'"
During her Sophomore year at Purdue, Liz found out about Vision of Hope and the internship program from a former intern who was involved in the College class. Liz was excited about the possibility of being an intern because she wanted to learn Biblical wisdom for women's ministry. In her next 2 1/2 years at college, she found herself meeting girls from rough or abusive backgrounds and she didn't know how to talk with them. Also, Liz was not convicted to jump straight into the workforce after graduation. "I was at a point in my life where I was burnt out… I didn't know what to do with my degree…" Well, God did! Through His guidance, and the wise counsel of others around her, Liz was able to join the intern team in January 2013.
Describing her experience of growth as an intern, Liz says, "I've received the personal growth from supervision and Staff's wisdom." Everyday, when you're not sure what to do, you have someone to go to and ask! For Liz, one of the most practical lessons she's learned through VOH is how to ask questions with curiosity rather than accusation. Personally, Liz has been challenged to look at her own heart every day she's been at VOH. "[I have to ask myself] why I do the things I do and what I'm really wanting. What's really ruling my heart?" Being an intern at VOH has also taught Liz how to "take dominion" by giving her practical opportunities to "own her shift" and take personal responsibility to personalize and steward her areas of responsibility, based on the specific gifts God has given her.
One of the best things about learning from VOH for Liz comes in the opportunity to transfer it to the relationships she has outside of Vision of Hope! This opportunity isn't easy, though. At Vision of Hope, it's "normal" and "expected" to confront, to spur each other to grow, and to practically live out the "iron sharpens iron" principle multiple times a day (same applies with encouraging and supporting multiple times a day!). In the world outside of VOH, this is NOT normal! For Liz, it's been a challenge, but a blessing, to begin applying some of the lessons she's learned about confronting and encouraging with her friends outside of VOH.
Another important aspect of Liz's internship experience is church. For Liz, giving up her involvement with Faith Church was never an option, even as her responsibilities as an intern grew in her second 6 months. "I knew it was going to be hard to balance VOH and church ministry," but the community and accountability provided by the church was too important in Liz's life to consider sacrificing. Plus, God commands it, and even though Liz was busy, she desired to obey God in this way.  Through God's grace, Liz has been able to balance and integrate life at VOH with life at Faith. "I try to integrate VOH lessons to church friendships and vice versa.
When asked about her future plans, Liz replied, "What plans?" with a smile. While she doesn't know specifically what God wants her to do next, she'd like to stay in the area and continue serving with Faith Church. She'd also like to work on her ACBC (Association of Certified Biblical Counselors) certification. For Liz, being certified is not so much about the certification itself. Rather, it's about wanting to counsel well, and equip herself for discipleship. Wherever God takes her, Liz wants to simply live life with people and pour into them some of the love she's received from others and God.
Throughout her internship at Vision of Hope, Liz has related to the song "Give me Faith" by Elevation Worship. The bridge of the song says, "I may be weak / Your Spirit's strong in me / My flesh may fail / My God You never will."
"A lot of things have popped up that make me question that God is truly good," Liz says, as she wrestles, "For me it's about clinging to God in everything. It's a crossroads of who am I going to believe? God or myself (Proverbs 3:5-8)? In every decision it boils down to am I going to obey or disobey? If I disobey, it leads to destruction. If I obey—even when it's hard, even when it goes against my grain—God blesses that."
"See, I have set before you today life and good, death and evil, in that I command you today to love the Lord your God, to walk in His ways, and to keep His commandments, His statutes, and His judgments, that you may live and multiply; and the Lord your God will bless you in the land which you go to possess. But if your heart turns away so that you do not hear, and are drawn away, and worship other gods and serve them,  I announce to you today that you shall surely perish; you shall not prolong your days in the land which you cross over the Jordan to go in and possess. I call heaven and earth as witnesses today against you, that I have set before you life and death, blessing and cursing; therefore choose life, that both you and your descendants may live; that you may love the Lord your God, that you may obey His voice, and that you may cling to Him, for He is your life and the length of your days; and that you may dwell in the land which the Lord swore to your fathers, to Abraham, Isaac, and Jacob, to give them."
-Deuteronomy 30:15-20