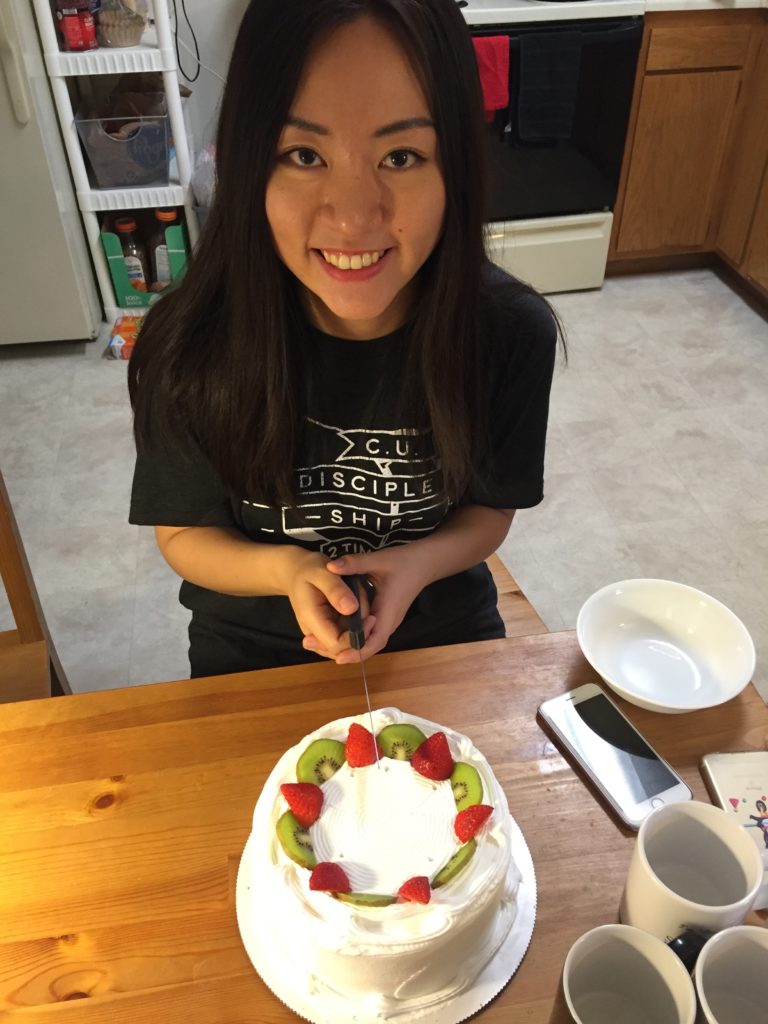 God brings women from diverse backgrounds to serve as interns at VOH. Not only has He brought women from different walks of life, but also from different countries to work, learn and minister here for a year.  Through His grace and Spirit, He unites these unique individuals into a great team.  We are very blessed by our current intern team and are so thankful for their hunger for God's Word and their desire to serve the residents here. Today, hear how God saved Nancy and brought her to intern at VOH.
My name is Nancy Zhong (my real Chinese name is Zengmeizhi Zhong), I was born and grew up in Chengdu, China, a fun and popular metropolis famous for its spicy food and panda bears. Before moving to VOH, I graduated from Cedarville University (OH) last year and had been serving in a full-time ministry as a mentor in a Christian therapeutic boarding school in Missouri. It was a very difficult ministry but God stretched me to grow and see more of Christ's glory in His suffering for me. I love cooking with instrumental Jazz music on, going to live Jazz, volleyball, badminton, Ping-Pong, going crazy with Dutch Blitz, hiking, watching and discussing great shows or movies, cats or other fun animal videos, leading or having Bible study, and my biggest passion has always been introducing the authentic Chinese food to my American friends and other internationals. Discipleship and cross-cultural evangelism are the fire in my heart.
I did not grow up in a Christian family nor going to church in China. I came to the U.S.A. in 2010 for the first time to attend Purdue. My freshman year was full of cultural shocks and loneliness and confusion about my life and life purpose. In the summer after my freshman year, I went back home and was invited to a house Bible study by my mom's friend. God opened my eyes to see His definition of the problem of this chaotic world and my life—sin– also with his cure for it–Jesus the Son of God. I had no problem admitting myself as a sinner at all, and I totally believed that the Bible was the source of truth. However, I struggled with assurance of my salvation. I was afraid that I was like the generation of the wilderness, who saw and knew the promised land but never entered it, or like the ones calling on the Lord but the Lord said that he never knew them. When I came back to the States to continue my college, I eagerly looked for a church to attend, and God graciously connected me with Faith church and the PBFi fellowship for international students like me. I grew quickly in knowledge of His word and a new lifestyle with other fellow believers. Most importantly, I was connected to a lady who became my mentor and shared the true gospel with me, that I could receive the free gift of God's forgiveness and eternal life through Jesus' sacrifice and resurrection for me. That really freed me from fear of losing my salvation and marked my growth in a personal relationship with my Lord Jesus.
Later on, I went through a very difficult period resulting from my foolish and sinful decisions. God started to reveal Himself as a merciful and faithful Father to me by providing for all my needs at the time, and poured out His grace through so many people. Through those tearful and prayerful days, my relationship with my mom was reconciled in Christ too, and I realized how much I did not deserve everything He allowed to happen but full of thankfulness to Him. My passion also tremendously grew for learning the Bible in-depth in order to increase my faith in God and lead other people to this merciful and holy God (especially Chinese people). I told God that I would love to do full-time ministry if he allowed, and chose to change to Bible major/Business minor to build foundation for the future local ministry or mission for His kingdom. He led me and blessed me to finish my college degree in Cedarville University, where I grew in His knowledge and grace and fellowship who passionately pursue Him and His people. Jesus Christ has totally changed my life after 19 years of believing and living in lies. He has given me a life purpose, revealed who I was created to be and for, gave me a living hope, secured my heart in Him, reconciled me to my Heavenly Father, completely changed and refreshed my relationship with my mom, motivated me to love and serve other people for His kingdom. Knowing and relying on His great love, I have learnt to love others freely and well. I am definitely not loving others or God perfectly 24/7, but I know that there is no condemnation in Christ anymore and that my God would finish His good work in me, and will bring people back to Him, until my Lord comes back to marry His church in His new Heavens and new earth. I look forward to seeing my Lord Jesus face to face, hearing him say "my good and faithful servant,'' and exploring His perfect kingdom with my King together.
How did you hear about the VOH internship? Why were you interested in coming here to serve for a year?
I knew VOH through friends and mentors at Faith and PBFi. I have some old interns as friends who loved and served VOH, and their stories just really gave me a closer picture of how God is working in this special ministry, as well as how believers are serving Him with His wonderful wisdom. In my years of being a ''baby Christian," my mentor Stephanie discipled me, teaching me how to study the Bible and also offering me a lot of counseling that was directly from God's Word. God's Word has always been so active and living and transforming ever since. I knew that His Word was the only source to bring life transformation. I received 11-week Biblical training in one summer, and I grew in my personal life struggles and was able to encourage my Christian friends with Biblical counseling. God showed me that His word was so relatable, effective, and sufficient. Therefore, when I heard about VOH and the biblical counseling offered here, I loved it and knew God was doing great things here. I wanted to join the ministry to serve these ladies with the wisdom that God had poured into me.
What are you excited to learn and grow in at VOH?
I am excited to grow in applying God's word in my personal holiness and in serving the ladies to walk with the Lord. I look forward to serving people in my good days and bad days with His unfailing love that I do not deserve. I pray that the Lord to reveal my idols in my heart and to serve and submit to his kingship on daily base.
If we had a fun themed day at VOH, what would you want the theme to be and why?
World culture day! International food! To know more about God's creation and grow knowledge of how to share the gospel to people from another place.
Throughout the rest of her year at VOH, Nancy will have an abundance of opportunities to continue to rest in God's love as she pours out love and service to others.