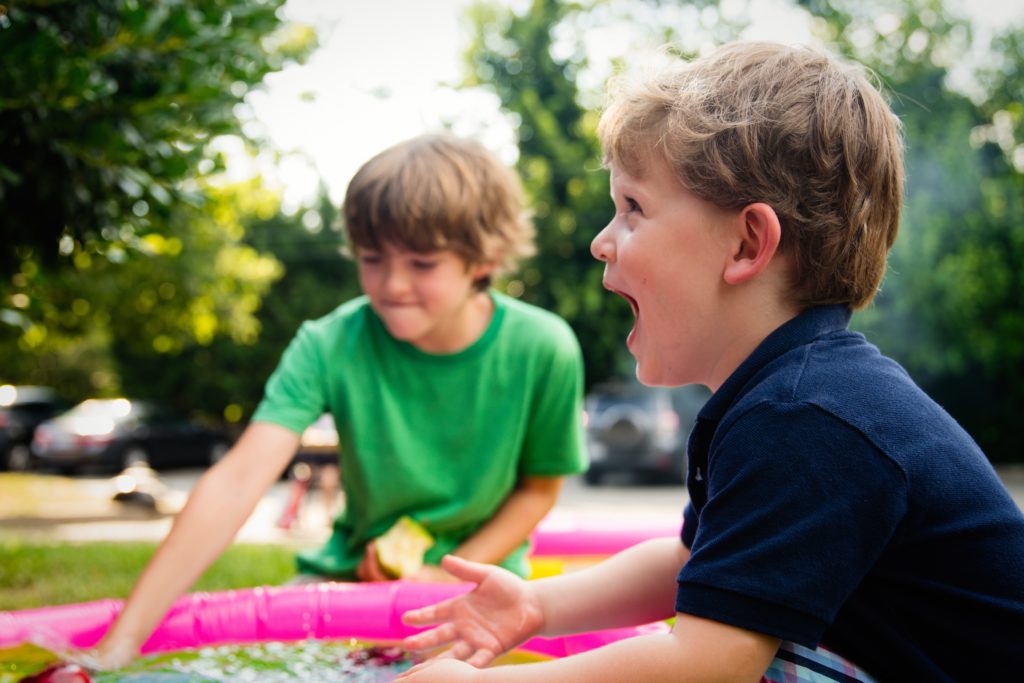 It's hard to believe it, but we are about to finish up our last week of school! While summer is definitely a fun time, oftentimes kids need some extra activities to keep their hands and minds busy during their extra free time. Our Faith West preschool teachers have assembled a list of 13 fun activities you can do with your children this summer. Let us know which one is your favorite!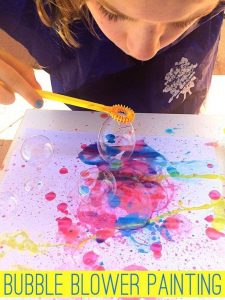 1.Bubble Painting – Idea provided by Danielle Leazenby via https://childhood101.com/bubble-painting/
Supplies: Bubbles, Food Coloring, Paper
Instructions:
Add food coloring to bubble mix until desired color is achieved.
Blow bubbles onto paper.
Have fun!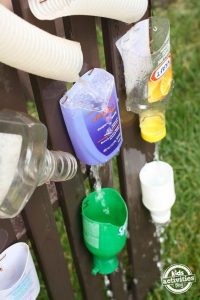 2. Water Wall – Idea provided by Danielle Leazenby via https://www.themaven.net/kidsactivities/kidsactivities/easy-backyard-water-wall-FKwDAbyfFkC3EznpNYnTJA?full=1
Supplies: Plastic containers, pool noodles, funnels, etc., A wall, fence, plywood, or anything else that materials could be attached to, hooks or rope.
Instructions:
Make sure all plastic containers or any other materials used have two holes.  One for water to go into it and one for water to flow out of it.
Make a small hole at the top of each plastic container (or other supplies) where they can be hung up if needed.
Plan where each plastic container, pool noodle, funnel, etc. will go so that water can flow through like a maze.
Attach them to your wall, fence, plywood, etc. using ropes, hooks, or any other material that would work for your water wall.
Pour water at the top of your water wall and watch as water flows from beginning to end!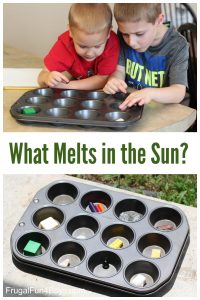 3. Science Experiment: What melts in the sun? – Idea provided by: Rebecca Merkel via https://frugalfun4boys.com/2015/06/11/simple-science-experiment-for-kids-what-melts-in-the-sun/
Supplies: Muffin tin, things that melt and things that don't suggestions: chocolate, a wooden block, lego, crayon, ice, butter, a marble
Instructions:
Place each item in a separate section in the muffin tin
Put the muffin tin in the sun and set a timer for 10-30 minutes (or however long is convenient)
See which items have melted and which have not!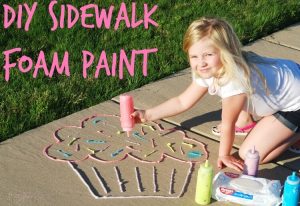 4. Sidewalk Foam Paint – Idea provided by: Rebecca Merkel via https://thetiptoefairy.com/diy-sidewalk-foam-paint/
Supplies: Two 4 oz. bottles of washable school glue, 1 cup of white flour, 4-5 cups of white shaving cream, Food coloring drops, 1 Gallon-sized zipolc bag, Sandwich-sized ziploc bags (one per color), Scissors, Optional: plastic squirt bottles
Instructions:
In gallon-sized bag add flour, washable school glue, and shaving cream
Close the bag and knead the mixture until everything is thoroughly combined
Snip one corner of the gallon-sized bag and squeeze into smaller bags (one small bag per color)
Add 10 drops of one food coloring to each bag and knead until color is mixed completely
Snip off the edge of each bag and squirt into plastic squirt bottles or simply use the ziploc bags to paint
Time to paint! (The paint easily washes off the sidewalk with water)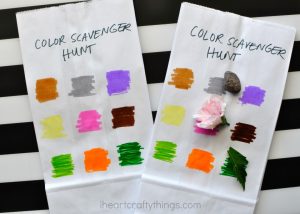 5. Scavenger Hunt – Idea provided by: Audrey McAfee via https://iheartcraftythings.com/simple-color-scavenger-hunt-kids.html
"We went on a scavenger hunt this last summer and had lots of fun with it. Here is a different way to do it with each kid getting their own white paper bag with colors drawn on it!"
Supplies: White paper lunch sack, markers
Instructions:
Write "Color Scavenger Hunt" at the top of your white paper lunch bag.
Choose the colors you want the children to hunt for and use your colored markers to scribble small squares onto the front of the bag of each color.
Pass out the bags to the children and let them have fun finding all of the colors on the bag. When they find an item that matches one of the colors, place it in the bag. When everyone is finished, sit in a circle and have a fun time having a show and tell about all of the items everyone found.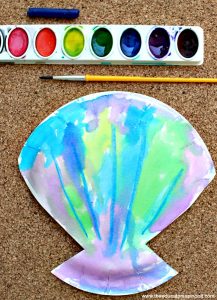 6. Watercolor Painting – Idea provided by: Audrey McAfee via https://theeducatorsspinonit.com/sink-into-reading-with-free-printable/
"I personally LOVE watercolor crafts with the kids, they get so creative! This paper plate shell is a fun and easy watercolor craft you can try with your kids!"
Supplies: paper plates, scissors, crayons, watercolor paint, stickers
Instructions:
Pre-cut the shells, depending on the age of the child.
Examine the lines in the real shells and talk about their directions. Encourage children to draw the vertical lines with a crayon on their shells. Remember to have them go from top to bottom in order to encourage good early writing habits.
Watercolor paint over the crayon lines. The paint should resist the lines and show through.
Let dry. Decorate with ocean theme stickers if available.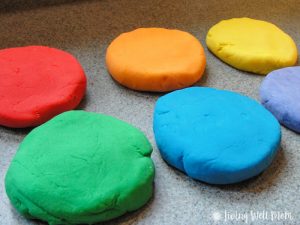 7. Homemade Playdough – Idea provided by: Sharron McAfee via https://livingwellmom.com/2012/02/easy-homemade-playdough-recipe/
"One of my all-time favorite things to do with kids is making home-made playdough.  Of course, this doesn't have to be just for summer; playdough and a rainy day are a perfect combination! One of my favorite recipes is from livingwellmom.com. The only thing I do differently is to add the color before I start heating the mixture."
Supplies: 1 cup flour, 1 cup water, 2 tsp. cream of tarter, 1/3 cup salt, 1 tbsp. vegetable or canola oil, food coloring, wax paper
Instructions:
In a 2 quart saucepan, add 1 cup flour, 2 tsp. cream of tarter, and 1/3 cup salt.
Add 1 cup of water, 1 tbsp. of oil, and food coloring.
Turn burner on medium/low and stir. Continue stirring until it becomes a little solid. The dough will start getting thicker and a little lumpy, continue stirring. The dough will start gathering together around the spoon and that will be your sign it's done.
Remove your play dough from the stove and put it on some wax paper to cool.
Store in a ziplock bag.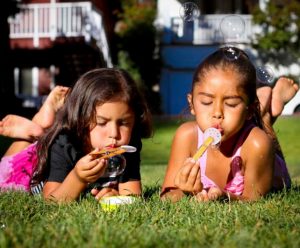 8. Homemade Bubble Brew – Idea provided by: Sharron McAfee via https://www.twincities.com/2012/08/23/donna-erickson-make-your-own-bubbles-can-be-bigger-better/
"Another really fun summer activity is making super-large bubbles with a batch of homemade bubble "brew." This is a great recipe!"
Supplies: 1 large plastic bowl, 2 cups warm water, 1 cup dish soap detergent, 2 tablespoons glycerin (from the pharmacy)
Instructions:
Pour water in the bowl. Measure out and add the liquid detergent.
Add the glycerin and stir a little more.
Find some spatulas, biscuit cutters, plastic strawberry cartons and/ or plastic caps with small holes on spice jars. To create wand handles, attach the objects to clothespins or chip bag clips.
Go outside, choose a bubble maker, dip it in the soapy solution and gently blow through it or grandly wave it back and forth above your head while the bubbles fly.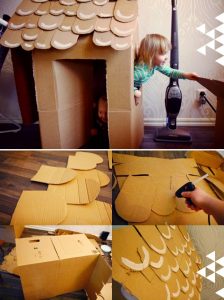 9. Cardboard Houses – Idea provided by: Sharron McAfee via https://playtivities.com/cardboard-houses/
"For hours of fun for very little monetary outlay, get a huge box (think appliance store) and turn it into a play-house.  Mom and Dad will need to start by cutting doors and windows and fashioning a roof, but after that, kids will love coloring or painting to add their own special touches.  Here are some adorable examples:  https://playtivities.com/cardboard-houses/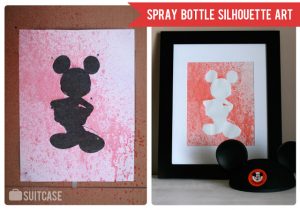 10. Spray Bottle Silhouette Art  – Idea provided by: Allison Zootman via https://www.sisterssuitcaseblog.com/creating-with-kids-spray-bottle/
Supplies: spray bottle, craft paint (watered down), white paper, scissors, straight pins, cardboard box.
Instructions:
Water down the paint.
Cut out a simple shape.
Attach the shape on the white paper inside the cardboard box with pins.
Start spraying to paint the paper.
Let the paint dry and then remove the silhouette shape.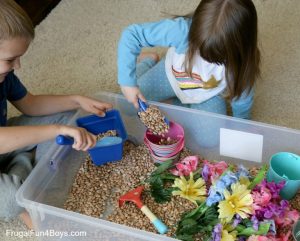 11. Planting Flowers – Idea provided by Allison Zootman via https://frugalfun4boys.com/2018/04/12/planting-flowers-sensory-bin/
"My students love pretending to plant flowers! For this activity, you just need to fill a large container with pinto beans, fake flowers, small buckets, and children's gardening tools. This makes for a cheap, fun activity!
Supplies: large plastic container, pinto beans, fake flowers, small buckets, gardening tools.
Instructions:
Fill container with pinto beans.
Allow children to dig a hole in the "dirt" (beans) and plant flowers. They can plant them in the buckets or create a big flower bed in the plastic bin. Have fun!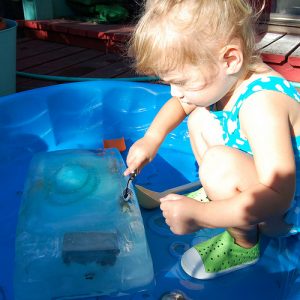 12. Ice Block Dinosaur Excavation –  Idea provided by Bethany Sallade via https://jenniferperkins.com/spring-break-fun-with-the-kiddlets-excavating-dinosaurs-from-ice/
"Keep kids busy and cool with this dinosaur excavation activity!"
Supplies: a plastic bin, small dinosaur toys (you could use other types of toys as well), water, freezer, excavating tools (toothbrush, squirt bottle, toy hammer, shovel, etc.), blue food coloring (optional)
Instructions: Put dinosaurs in a plastic bin and fill with ice (add food coloring if you wish). Freeze the bin of water (you may want to do this the night before as it takes a long time to freeze.) For easier cleanup, place the block of ice in a small pool or larger plastic bin, and let your kiddos carve away! This activity also works well as a fun science experiment. You could make two ice blocks, and leave one in the shade and place one in direct sunlight. Your child can observe and discover ice melting (how water changes its state from a solid to a liquid) and discuss why he/she thinks that happens. What causes ice to melt? Does the ice block in the shade melt faster or slower than the ice block in the sun?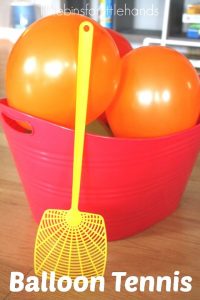 13. Balloon Tennis – Idea provided by Bethany Sallade via https://littlebinsforlittlehands.com/balloon-tennis-gross-motor-play-activity/
Supplies: balloons, fly swatters, tape (optional)
Instructions: This super simple activity will get your kiddos up and moving. Just blow up some balloons and grab your fly-swatters for lots of fun! This activity easily transitions inside if the weather is rainy too.