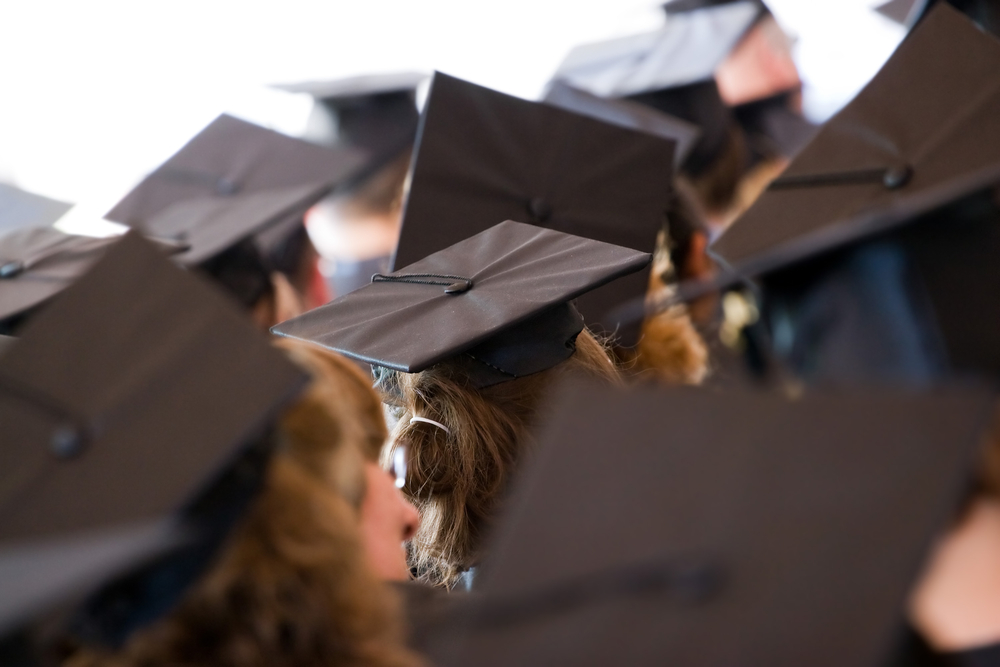 As an educator, I know that we are not supposed to play favorites.  And while I understand the premise, I totally find myself having a favorite Senior this year – and that senior is my daughter, Allison.  Allison is our middle child, and she definitely suffers from "middle child syndrome".  Growing up, we used to tell the nursery workers – "Don't talk to her; don't look at her; just put her in the rocking chair, leave her alone, and everything will work out fine".  Many times, well meaning nursery workers would refuse our counsel and try to nurture and cuddle with her.  As we were walking away we would hear Allison wailing away, and my wife and I would just smile at each other.  Generally, we would come back after a couple of hours to find Allison rocking away by herself with a perplexed looking nursery worker stating, "You were right!"
Where He leads, I'll Follow
I'm sure that most parents wonder what their children will be like when they grow up, and it's likely that they are truly surprised to see the path that God leads them on.  God created each one of our children very different, and I am so thankful for each of their unique qualities.
From my perspective, Allison has had a great jr. and sr. high experience.  Not everything has necessarily gone exactly the way she has wanted it to go, but along the way I could see God directing her path and her future.  In juggling my position as a school superintendent with my responsibilities as a father, I have seen many students, like Allison, use the opportunities afforded them at Faith Christian School to further their walk with Christ, as well as develop key qualities to help them be effective in God's world.
 Stewardship of Talents:  1 Corinthians 4:2
I believe many of Allison's experiences at Faith Christian School have molded and developed her life path.  She has participated in volleyball and basketball where being a part of a team and juggling responsibilities have given her the work ethic and friendships to accomplish common goals and have encouraged Allison to set aside personal accomplishments for the good of the team.  Allison has also been involved with the Faith Ministry Team along with playing in the band and singing in the choir.  Seeing her use her talents and abilities to serve others has demonstrated to me her desire to put others first and seek out their interests instead of her own.  When we realize and understand that God has given us talents and that we are responsible to use them for His honor and glory, God is the one who ultimately receives the praise that He deserves.
Serving Others:   Philippians 2:5-8
Allison has also been a team leader for our school's Eagle Fair.  Leading peers, making schedules, and communicating expectations have allowed her to develop key leadership qualities for her future vocational goals.  Allison has also been stretched academically at Faith.  She has had to learn to balance her time and work very hard for her grades.  I believe, through some of these trials, Allison has developed a compassionate heart for struggling students as well as a desire to see students succeed even while having high standards.  Jesus Christ modeled for us what it looks like to serve others.  He laid aside His crown; He looked for the needs of others; He picked up a towel and washed dirty feet; and He set out to ultimately do the will of His Father, until it was finished.
Participation:   Matthew 19: 13 – 14
Over the past 18 years, I have seen Allison develop a true love for children and for helping others.  One of my favorite opportunities that Allison and I have shared was our trip to Hope Christian School in Masaka, Uganda, Africa, last summer.  We spent 10 days in Africa serving in a variety of capacities, but our favorite aspect of the trip was serving specifically at Hope Christian School.  We helped build a playground for the students.  Allison and another student presented a Bible lesson for the students and simply looked for practical ways to minister to the children at Hope Christian School.  This mission trip impacted Allison enough to guide her and direct her to someday return to Africa as an elementary teacher and possibly as a missionary.  I believe that the students at Faith Christian School are given so many unique and exciting opportunities in which to participate.  I appreciate seeing students take advantage of the activities, classes, programs, and trips that they are able to be a part of.  Using these opportunities can truly direct their path into many effective avenues of future service.
As the superintendent at FCS, I am very proud of each of our seniors.  Many of these seniors will leave FCS very well prepared and with a wonderful Biblical worldview that will serve as a tremendous foundation for their future.  My pastor often says that "the proof is in the pudding" – meaning that people will view the success or lack of success of our school through the lives and testimonies of our graduates.  I want our seniors to be prepared to live effectively in God's world, and I also want our students to walk across that stage and receive their diploma, all the while having a deeper and more meaningful relationship with their Lord and Savior, Jesus Christ.
Allison – I'm so proud of you!  You're almost there.  I hope that your life will be an offering and sacrifice to the Lord where one day you will hear Him say, "Well done, My good and faithful servant, enter into the joy of your rest".