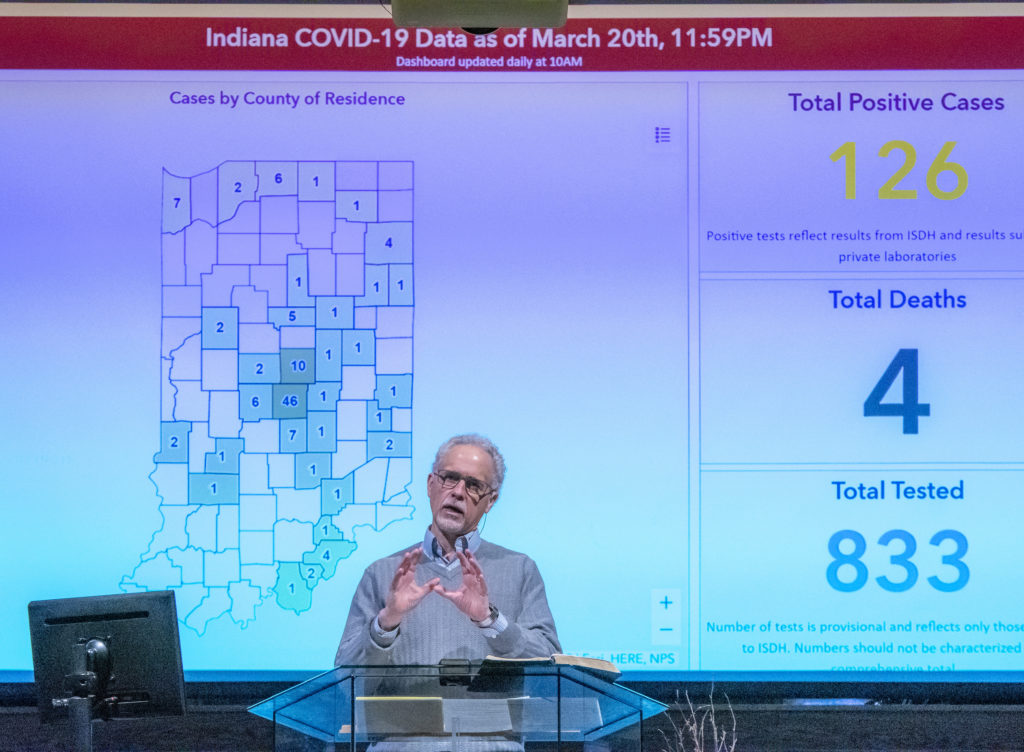 This essay is not intended to be a shot over anyone else's bow. Each church and elder team serve the Lord in a unique community and cultural setting. What works in mid-central Indiana may not work in, well, you fill in the blank. Plus, judging the servant of another is a patently unbiblical thing to do (Romans 14:4).
With those caveats in mind, I would like to thank and praise the Lord for our state and local government and healthcare leaders and explain why, since mid-March of this year, our church and associated ministries have worked closely together with them in a collegial and collaborative fashion. One passage of Scripture that has guided us from the early days of the pandemic is Titus 3:1 – "Remind them to be subject to rulers, to authorities, to be obedient, to be ready for every good deed."
I have had the privilege to serve as a pastor at Faith for over thirty years and I have often believed that Titus' ministry setting in Crete was quite similar to that of many American churches today. A careful study of Paul's instructions to this young pastor shows the importance of Christ's church living out the gospel through our commitment to doing good to those the Lord has placed around us, regardless of their perceived shortcomings and failures (cf. Titus 1:12-13). Consider some of the book's closing admonitions:
This is a trustworthy statement; and concerning these things I want you to speak confidently, so that those who have believed God will be careful to engage in good deeds. These things are good and profitable for men. But avoid foolish controversies and genealogies and strife and disputes about the Law, for they are unprofitable and worthless (3:8-9).
Our people must also learn to engage in good deeds to meet pressing needs, so that they will not be unfruitful (3:14).
COVID-19 has given us a marvelous opportunity to put these verses into action in our response to those the Lord has placed over us. In our case, that meant that we stopped having public worship services when we were mandated to do so and immediately pivoted to an entirely online worship format. We have also submitted all our subsequent reopening plans for our church, school, and community ministries to the health department and our mayors and county commissioners before moving forward.
We believe corporately worshipping Jesus Christ on the Lord's Day is one of our highest delights and greatest responsibilities (Hebrews 10:24-25). However, we also believe God's Word instructs us to obey our government authorities unless it is simply impossible to do so. That is why our reopening plans included practices like social distancing and mask-wearing. We even expanded the number of public worship services from seven to eighteen in order to be sure we were complying with the government's guidelines and doing our best to keep our people safe. We worked hand-in-hand with our local officials, behind the scenes, before publishing these plans. All along the way, we also assured our mayors, county commissioners, and health department officials that we were praying for them as they carried enormous responsibilities on behalf of the members of our community. As followers of Christ, we wanted to be part of the solution not part of the problem.
Here are four reasons why Faith has chosen to function this way:
1. We want to submit to those who know much more about infectious diseases than we do.
One of the challenges I have faced as a pastor over the years is the temptation to believe that just because I have some level of expertise in Bible study and theology, that means I am an expert in everything. Scripture calls that pride. The apostle Peter warned Christ's shepherds about this very tendency when he wrote, "You younger men, likewise, be subject to your elders; and all of you, clothe yourselves with humility toward one another, for God is opposed to the proud, but gives grace to the humble" (1 Peter 5:5). Three verses later, still in the context of pride, Peter said, "Be of sober spirit, be on the alert. Your adversary, the devil, prowls around like a roaring lion, seeking someone to devour" (5:8).
If recent evangelical history has taught us anything, it is that the Lord is apparently not impressed with celebrity pastors who placed themselves, or allowed others to place them, on pedestals. Warren Wiersbe's point years ago in his book, The Integrity Crisis, bears repeating – pastors get in trouble when we start believing our own press clippings.
Our state and local health department leaders are well-trained and have access to the latest information on the management of COVID-19. I can barely spell epidemiology, and I need to know what our local scientists are learning about this disease in order to best lead our church family. Sometimes, the church is perceived as being anti-science. Because God's people are called to love truth, we should be eager to learn from those in our communities with medical training and scientific experience.
2. These community leaders are our friends and neighbors.
In my recently released book, Loving Your Community, I advocated an approach to ministry that views the community more like a mission field and less like a battlefield. I was originally exposed to this idea in Michael Horton's book, Beyond Culture Wars. Of course, there are senses in which each metaphor has its place, but wise churches work hard to build collaborative relationships with mayors, judges, school superintendents, sheriffs, secular non-profit leaders, and many other influential members of the community whenever possible.
As we have submitted our various reopening plans to our community leaders the past several weeks, we were not sending an impersonal email to an unknown entity. These are men and women we have worked together with for decades on all sorts of community endeavors. They know us and we know them. There is mutual trust, appreciation, and respect.
We are glad these relationships were in place long before the pandemic and we want to be sure they are even stronger afterwards. If that means having to adjust in order to show love to one of our friends, we believe that is exactly what strong relationships are all about.
As an example of how the process specifically worked, last week we consulted with the health department to determine the best way to launch our fall community outdoor soccer program. A significant percentage of the several hundred people who participate are from outside our church family. This is by design as part of our overall community outreach strategy. We want to be sure that we are "doing good" by seeking to protect everyone's health and practicing extreme caution in everything we do. The health department officials were so thankful for our approach that they asked if they could pass the documentation along to other community soccer groups as a recommended model of the way to proceed. In our way of thinking, this is just the way friends treat one another.
3. We want to support the other important entities in our town.
The nature of this virus has demonstrated how interdependent we all are. A needless outbreak of the infection at a church could have negative ramifications on local schools, colleges and universities, businesses, employers, hospitals, and healthcare facilities, and all the men, women, and children involved in each of these endeavors.
None of us like masks, social distancing, limiting our singing, and all the inconveniences that attend this pandemic. But isn't that what loving our neighbors is all about right now? It would be a terrible thing if a selfish choice we made harmed those the Lord has placed around us. Consider how hard everyone has worked this year to control this disease. The sacrifices on the part of so many community members have been significant. Our church family can and should do our part.
There are many ways this principle plays out on a practical level. For example, as our local schools reopen, parents, students, teachers, and administrators are concerned about the best way to serve everyone involved in the educational process. I hope these dear men and women watch the way the church functions and conclude, "they care about us and their caution on Sundays puts us in the best possible position to succeed throughout the week."
The same is true when it comes to local employers. Many businesses are stressed like never before. Churches can joyfully worship on the Lord's Day, but in a way that sends our members back to their jobs on Monday with refreshed souls and healthy bodies. We want our employers to know that we appreciate them and want to do everything we can to help them weather this pandemic well.
We think similarly regarding Purdue University and Ivy Tech. These schools are the lifeblood of our community and they have literally spent millions of dollars to bring students, staff, and professors back to campus this fall as safely as possible. They are justifiably worried about the kinds of unwise and unhealthy activities some students might choose to engage in off campus. They should not have to think about whether area churches are being reckless and cavalier about the needless spread of this disease. Especially because of our strong convictions about the sanctity of life, we should be leading the way in protecting one another's health so students can continue their education this fall.
This applies most acutely to our local hospitals and healthcare workers. In many cases, these dear men and women are exhausted. They take extreme risks every day to care for those suffering and dying from COVID-19. We can passionately worship Jesus in a way that still shows concern for our community members on the front lines of this disease.
4. We are finding creative ways to worship the Lord together.
A certain percentage of our church family has returned to public worship services while others are continuing to join us online. It is possible to both care for our souls and protect our bodies simultaneously.
Some of our members had never been on a Zoom call before. Now they are studying God's Word, praying, and fellowshipping with their brothers from the safety of their own homes. I believe it is likely that some of these methods will outlive the pandemic. I am especially excited about the way all of this is impacting the older members of our church family. Eventually, many of them will become "shuts-ins," a demographic that is often difficult to serve well. Not anymore. Some of our oldest members are the ones embracing the newer technology with the greatest level of excitement. Now they interact with their brothers and sisters like never before. I loved hearing the story of one of our Adult Bible Fellowship classes which moved to an online platform and after the teacher was finished with his first lesson, several of our older members wanted to stay and "keep talking." Eventually the teacher announced that he needed to get to some other responsibilities with his family but assured his class-members that they were more than welcome to keep on talking—and that is exactly what they did.
This new-found knowledge is also impacting the way we are designing our fall ministries. We are actually energized to consider youth and adult ministries that provide both onsite and online options. It is likely that an entire new group of people from our town will come to know Christ because the Lord is leading us to more innovative approaches to ministry that we would have never had reason to contemplate were it not for this virus.
None of this is easy, which may be why Paul admonished Titus that he would have to "speak confidently" and "be careful." Pastors need to set the pace in leading our church families to "learn to engage in good deeds to meet pressing needs, so that they will not be unfruitful." When we begin to falter under the load of the task, lets remind ourselves of the way Paul ended this wonderful letter. "Grace be with you all." May the world look at the way the church functions during this pandemic and have many reasons to conclude that is exactly what is happening.