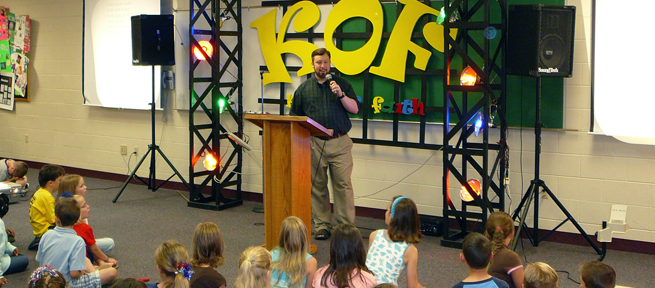 The following article by Stacy Clardie is the third in a series that shares our Pastors' testimonies of how the Lord led them to serve at Faith Church.
Trey Garner isn't exactly sure why, but kids have always responded to him.
It's a "weird connection," he says, how they tend to listen when he speaks.
Maybe it's because of his hearty laugh and commanding, booming voice.
The latter helped Garner move into the role of leading Faith's music and worship ministry in 2003.
But, while he was in seminary, a better fit for the worship ministry emerged and Garner found his perfect fit: Children's ministries.
That's where he's snugly stuck since 2005, initially as an intern before being elected to the pastorial staff in 2007. Garner oversees Sunday morning and Wednesday evening children's ministries, from newborns to fifth-graders. It's quite the load, with children's ministries being the largest serving ministry within Faith. There are 535 service positions, including the nursery. So simply making sure those spots are full is a big job, but it's also crucial to make sure those filling it are capable and have the tools provided to do what they need to do well.
Garner has made sure that's the case.
And he's keen on doing it himself, too.
Garner's primary focus on Sunday mornings is leading the first- and second-grade classes in music and teaching the third, fourth and fifth graders.
It's an especially sweet time.
"Don't tell anybody else this — I think our children's ministries are the most important ministry in our church," Garner said with a smile. "Now, others are going to disagree with me about that. You look at the statistics, they tell you that two-thirds of all people who trust Christ do so by the age of 18. The Barna Group also found that people's religious beliefs change very little after the age of 12. That's the group I'm working with, so the idea of reaching kids' hearts with truth is what drives me every day."
Garner has seen plenty of aha moments, watching as the children finally get it.
Often during his lessons, he'll have time when he simply asks the kids what they're wondering about or what questions they have. He calls it, "Ask the Pastor."
And those can sometimes be the most revealing and revelatory moments.
"We did this in one third-grade class, and one of the kids asked, he said, 'What do you do when you know the Bible says one thing, but you don't want to do it?' I love the honesty of that," Garner said. "That's one of the things I absolutely love about teaching kids — you don't have to dig a lot to get to the things they're wondering about, the things they're wrestling through. Their sin is pretty near the surface. I loved being able to interact with them on that question.
"I love seeing the light bulbs go off when they get a concept for the first time."
Through his own children — wife Deb and he have 5-year-old Noah and 3-year-old Lauren — Garner consistently is seeing the fruit of great service in the ministry.
There are times when the kids come home from church and say they've been taught the same things the parents have been talking about.
"It's like Praise the Lord for these people in strengthening our hand to help us get through to the hearts of our kids," Garner said. "I love it when kids get excited about Jesus. That's a really special thing."
Garner, though, was one of the rare cases from his quoted statistics: Someone who found Christ after adolescence. He was saved in 1995 while attending college at Texas State University. He began attending Faith in 1999 and that's when God started changing the desires of his heart.
"I started really thirsting after God's Word and the opportunity to minister God's Word to others. So my intention during my last year at Purdue was to finish up my degree and then to head off to seminary," Garner said.
Pastors Steve Viars and Brent Aucoin, though, wanted Garner to come on staff at Faith as an intern for a year first, so they could evaluate his character and giftedness, to see if ministry was a path Garner should pursue.
So Garner did, in 2001, and after that year of evaluation, he began taking seminary classes while staying at Faith as an intern. He finished his degree in 2007 and was elected to the staff as a pastor.