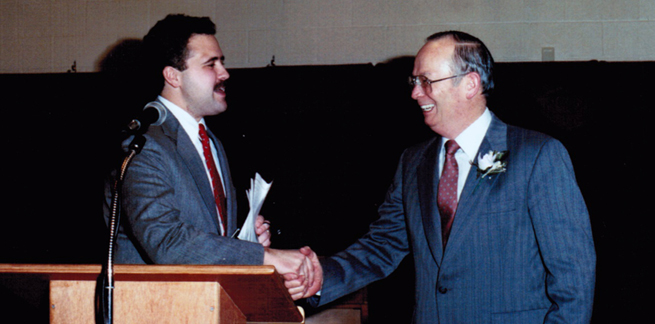 The following article by Stacy Clardie is the first in a series that shares our Pastors' testimonies of how the Lord led them to serve at Faith Church.
Steve Viars couldn't have envisioned a transition this smooth.
Even though he essentially was groomed to succeed Bill Goode as pastor of Faith.
Typically, though, it's rare when a long-time, respected, beloved preacher steps down and his "replacement" moves in and is equally as lasting, as loved and as admired.
But maybe Goode knew something the rest didn't.
After all, he'd known Viars for quite some time — Goode was lead pastor at Grace Baptist in Gary, the church a young Viars grew up attending.
And it was Goode who helped urge Viars to pursue God's mission, the one Viars felt so undoubtedly in his depths, to teach the Word as a pastor.
It was Goode who tracked Viars through college and seminary.
It was Goode who asked Viars, after he had finished his doctorate, to join Faith as an associate pastor, firmly with intentions of leading Viars to be the next senior pastor.
And yet, Viars' 27-year run as senior pastor at Faith is uncommon considering the circumstances.
"On one night, the church actually had to take two votes. One was to decide whether they wanted me to become the senior pastor of the church and the second was whether they were willing to place Pastor Goode on my staff as the pastor emeritus. The votes received over 99 percent affirmation from the church family," Viars said. "So when you think about an organization like this where I had been here eight years so they knew what they were getting, and he had been here 22 years at that time and he had plenty of time to upset people, but to have a vote that was that strong said a lot about the way he orchestrated that transition.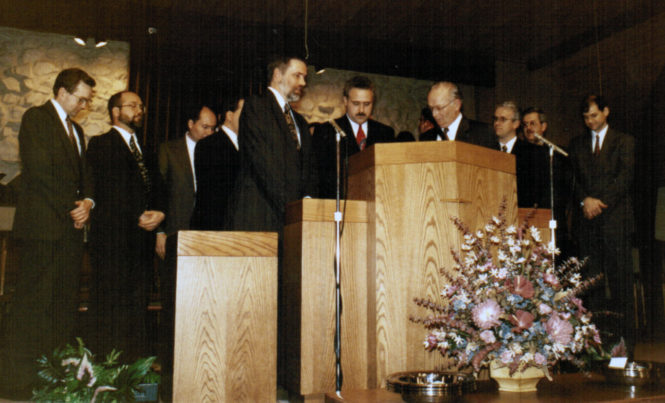 "A lot of times in a church, whoever follows a long, successful pastor, his pastorate is going to be short and rocky. That's just the way it is. It's hard for churches to make leadership transitions like that. So the fact that we were able to make a transition is a testament to God's grace, to Pastor Goode's leadership and just the unity of our congregation."
Surely, though, anyone who has listened to Viars preach or seen his leadership in action or spent time in his presence knows what Goode recognized so early: The man is gifted.
Viars earnestness in having the Word guide him is deeply rooted in his sermons. Delivered in his trademark style, pointedly finishing sentences or key thoughts with an inflection and a shortened, end-each-word-with-a-period drawl.
His sincerity in building believers is ever present, often calling his congregation to take hard, real looks at fruit bearing.
The gravitas fades briefly for moments when Viars sprinkles in humor — even a laugh, a wry smile — and quickly returns when Viars calls for sinners to repent, for newcomers to Faith to seek Christ and to walk the walk of a follower.
"It's an incredible privilege to be able to teach the Word of God and that people would be willing to show up and listen and actually do something with it," Viars said. "I don't know how you could better spend your time than that."
But Viars' work isn't only done from the pulpit.
Far from it.
Though that may be the most obvious, it isn't even necessarily his most powerful.
Every day, he's shepherding a staff that has come to consider him an incredible resource, an encouragement, a mentor and a friend.
"I couldn't begin to tell you how much I've learned from him over the years, not just in our worship times," said Trey Garner, who first came to Faith as an intern in 2001 and now is the church's pastor of children's ministries. "Some of the best pastoring he does takes place within a 3-foot radius of his desk. Some of the times when he's had to challenge me about things, some of the pastoring he has done in our weekly staff meetings. You'll probably find a lot of guys say this — there are times when we say things, it's like, 'We sound exactly like Steve.' We find ourselves speaking like him because he's been the one discipling us. I've learned so much from him, and there's a lot of ways in which I want to become more like him as obviously he strives to become more like Christ."
Viars is an example to his staff of how to work, too. He's not satisfied with leading simply by words but in deed, putting in countless hours.
Mondays are spent teaching and serving in the counseling center.
Tuesdays are the do-not-disturb days spent in what he jokingly refers to as the "cave" — his office has a bathroom and refrigerator so he doesn't have to leave — while he prepares for Sunday services.
Wednesdays are full of staff meetings.
Thursdays are planning and administration days, typically, and he'll work with outside groups, answering questions about implementing Biblical counseling in churches, among other things.
Often Fridays are spent traveling — to conferences or other churches to speak or teach and then returning back Saturday nights.
Sundays are spent preaching in three services — Faith offers 8 a.m., 9:30 a.m. and 11 a.m. services.
It's never a grind, never a burden, though it so easily could be, running a church the size of Faith, which boasts nearly 1,900 members as of Summer 2014 and has about 2,000 people attend weekly services.
"When you think about just the situation God's given us, we have an incredible church family, we have an incredible series of campuses and we live in an incredible community where there's unbelievable openness to our involvement in serving the community at all sorts of levels. We ought to be excited and thankful every day for the opportunities we have here," Viars said. "There's a sense in which I'm living my dream. When it comes right down to it, that is the truth. I dreamt about being a pastor as a young man, and by God's grace, that's exactly what I have the privilege of doing every day. How could it be any better than that?
"I am actually paid to study the Bible. I am paid to work in a local church every day. That is an incredible honor. I think about that all the time. Even … just driving into the church, just thanking God for the privilege of being able to serve the Lord full-time. That's the way I view it. It's an honor and it's a privilege, and I feel incredibly blessed to be able to serve in one of Christ's churches."
Viars and his wife Kris were married in 1982 and have three children.