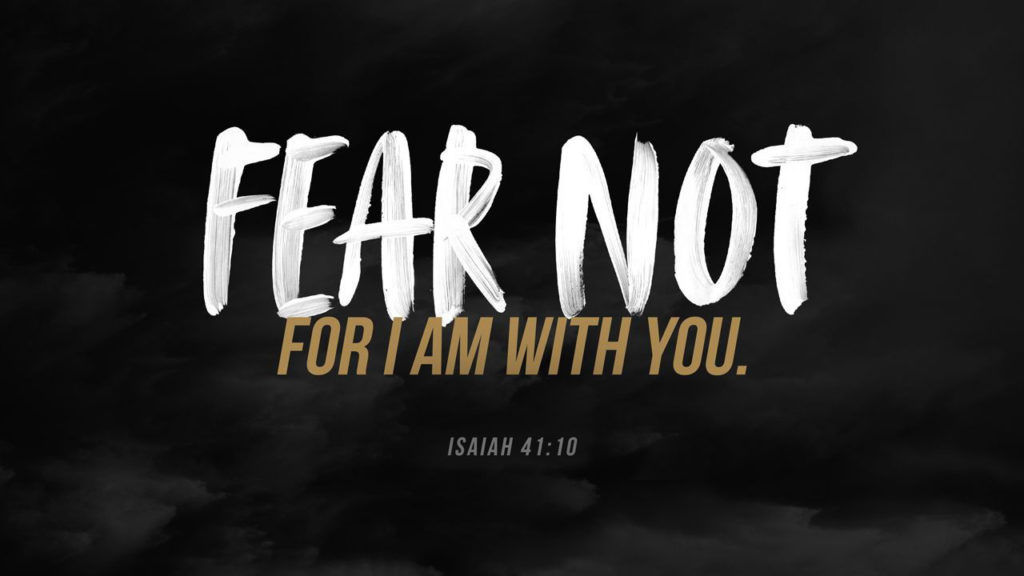 Do you remember what it was like to be a child? Do you remember all the scary new things that you had to overcome?
Like riding a bike without training wheels
Or learning to swim and to jump into the deep end where your feet were never going to touch the bottom of the pool
Or going into the dark basement where you couldn't see anything
I definitely remember times like that. I was never the overly adventurous child that was willing to jump without looking. I was the cautious, let's "think it through" type of child. For example, when my brother was wanting to go to the skate park and learn to do tricks on roller blades and scooters, I remember thinking things like, "Why would I ever want to try and do tricks over concrete with metal rails? Would it be cool? Sure, but there's no way I avoid breaking a bone before getting there!" When my brother wanted to go 4 wheeling, I found it more comforting to just sleep in the back of the jeep with my head bouncing around, than to look out the window at the precarious situations we were in. 
As you can imagine, my childhood was filled with a fair amount of fearful experiences with my less-than-adventurous outlook on life. What I do remember, that made a big difference in doing scary difficult things like jumping into the deep end of the pool or going into a dark room, was the assurance of my dad or mom being with me. When Mom or Dad was with me, although it was still scary, the fear no longer was the biggest reality to me—rather my parents' presence was more real. This allowed me to take the training wheels off and to jump into the deep end of the pool.
That's the same kind of encouragement that God gave to His people all throughout Scripture in order to help them overcome their fears. And that's the same encouragement He gives to us to fight fear.
God Promises His Presence
 Throughout Scripture
God's promise to be with His people begins all the way back in Genesis. In Genesis 28:15 God says to Jacob in a dream, "Behold, I am with you and will keep you wherever you go, and will bring you back to this land. For I will not leave you until I have done what I have promised you."
That promise came to Jacob at a very important time in Jacob's life. He was on the run from his brother who wanted to kill him. Not only that, but it was his father's death that his brother Esau was waiting for in order to seize an opportunity to kill Jacob. Therefore, Jacob not only had to flee his home, leave his mother, and flee his brother's hatred, he also had just lost his relationship with his father. Jacob must have felt completely and utterly alone, and that's when God made His presence especially known to Jacob. How sweet God's promise of His presence is—He will not leave until He's accomplished what He promised!
In Exodus 4:12 and 15, God promises Moses, who is fearful about his calling to go speak to Pharaoh, that "He will be with his mouth and teach him what to speak." God's presence is the answer to our inadequacy (as Moses was complaining about), and it's the answer to our fear! Moses learned this lesson so well that after he had led the people out of 
Israel he spoke to the Lord saying, "If Your presence will not go with me, do not bring us up from here. 16 For how shall it be known that I have found favor in Your sight, I and Your people? Is it not in Your going with us, so that we are distinct, I and Your people, from every other people on the face of the earth?" (Exodus 33:15–16)
I love how Moses boils down what makes God's people unique and distinct from everyone else—it's the presence of God with us. 
Throughout Scripture God promises to be with us. Here are just a few more samplings that might be helpful for you to study and meditate on further:
Joshua 1:5–9 
5 "…Just as I was with Moses, so I will be with you. I will not leave you or forsake you. 6 Be strong and courageous, for you shall cause this people to inherit the land that I swore to their fathers to give them. 7 Only be strong and very courageous, being careful to do according to all the law that Moses my servant commanded you. Do not turn from it to the right hand or to the left, that you may have good success wherever you go. 8 This Book of the Law shall not depart from your mouth, but you shall meditate on it day and night, so that you may be careful to do according to all that is written in it. For then you will make your way prosperous, and then you will have good success. 9 Have I not commanded you?  Be strong and courageous. Do not be frightened, and do not be dismayed, for the LORD your God is with you wherever you go."
Isaiah 41:10 
10 "fear not, for I am with you; be not dismayed, for I am your God; I will strengthen you, I will help you, I will uphold you with My righteous right hand."
Isaiah 43:5 
5 "Fear not, for I am with you; I will bring your offspring from the east, and from the west I will gather you."
Jeremiah 1:8 
8 "Do not be afraid of them, for I am with you to deliver you, declares the LORD."
Jeremiah 1:19 
19 "They will fight against you, but they shall not prevail against you, for I am with you, declares the LORD, to deliver you."
Jeremiah 15:20 | Jeremiah 30:11 | Jeremiah 42:11 | Jeremiah 46:28
Matthew 28:19–20
19 "Go therefore and make disciples of all nations, baptizing them in the name of the Father and of the Son and of the Holy Spirit, 20 teaching them to observe all that I have commanded you. And behold, I am with you always, to the end of the age."
God's Presence in 2020
In this season of uncertainty with COVID19 there are all kinds of fears and concerns we might have: fears involving financial security, fears about health, fears about how others are going to respond during these times, fears about not being able to visit or see loved ones, fears about being alone because of the quarantine and shelter in place orders, fears about special events like weddings being postponed for who knows how long, and on and on it goes. Those are all real concerns. Those are all things that are legitimately being threatened. But what is it that's going to help us battle that fear and get to a place of courage and encouragement rather than fear and dismay? It's going to be the reality that in the midst of COVID19, God is with us.
Think about Psalm 91. The psalmist declares in v.2 that the LORD is "my refuge and my fortress, my God in whom I trust." And then notice what kind of things the psalmist is trusting his God to be his fortress and refuge from:
3 

"

For H

e will deliver you from the snare of the fowler and from 

the deadly pestilence

.

"

5–6 

"

You will not fear

the terror of the night, nor the arrow that flies by day, 6 

nor the pestilence that stalks in darkness

, nor the destruction that wastes at noonday.

"

10 

"

no evil shall be allowed to befall you, 

no plague

come near your tent.

"
And God encourages us, not with the promise of nothing fearful or difficult in this world, but with the promise that His presence is with us in trouble (cf. Ps. 91:15). Right now the world is afraid of a plague and pestilence called COVID19. God's people have no need to fear the way the world does, because we have a refuge, we have a fortress, and it's the very presence of our God who is with us right here and right now!
Here are some practical ways to fight fear with the presence of God:
Make sure 

that every day you are 

meditating on the Word of God for a significant amount of time every day. 

God has revealed himself in His Word, and if we do not spend a lot of time studying and memorizing His Word, then the presence of trouble in this world will be more real than the God who is with us in the trouble.

Even in the midst of social distancing and sheltering in place, do not just isolate

(Prov. 18:1). God's presence is ministered to us through other believers

 and we still need that ministry—perhaps more so—during a time like this. Therefore, use the technology that God has given us in order to stay connected. 

I'd encourage you to make at least one phone call a day to a friend in order to encourage them and be encouraged.

 If you're 

not sure who to call, then please call one of your pastors, we'd love to speak with you and connect with you during this time.

Spend time in prayer

s peaking to God about your fears and concerns. God is a real person and the more you grow in communicating openly and candidly to

H

im, t

he more real you'll experience H

is presence.

Make sure you know Jesus Christ as your Lord and Savior. God's promise to be with us is for His people, and His people are those

who have surrendered their lives

 to 

Jesus Christ.