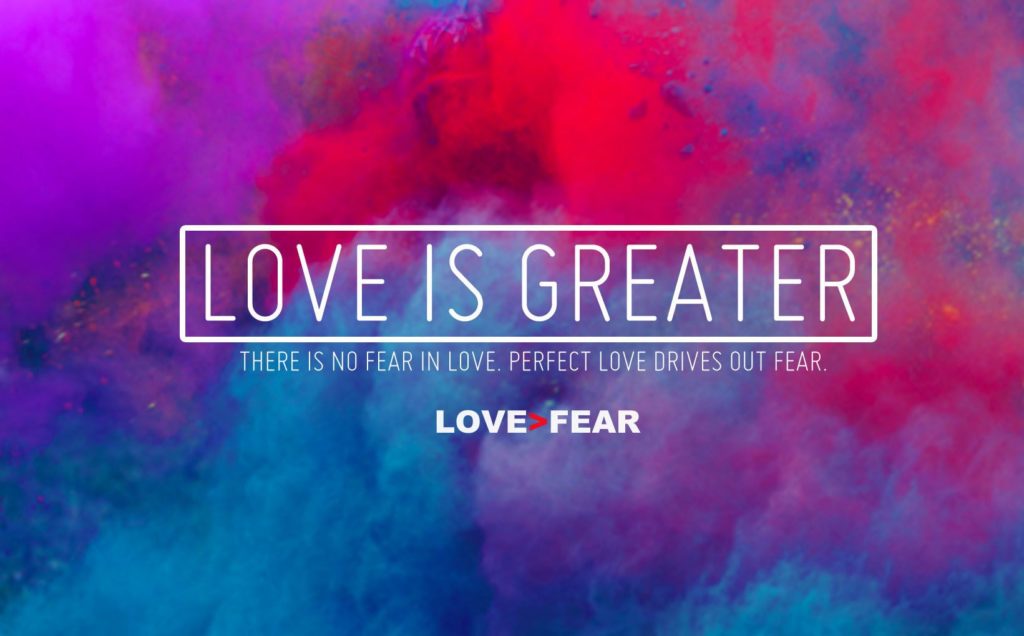 Love 
c
asts out 
f
ear
To address fear, you must first recognize that because of the Gospel you are addressed as someone God loves. 1 John 4:7-11 says, 
7 Beloved, let us love one another, for love is from God; and everyone who loves is born of God and knows God. 8 The one who does not love does not know God, for God is love. 9 By this the love of God was manifested in us, that God has sent His only begotten Son into the world so that we might live through Him. 10 In this is love, not that we loved God, but that He loved us and sent His Son to be the propitiation for our sins. 11 Beloved, if God so loved us, we also ought to love one another.
We are called "Beloved" and we are called to love one another. God is love and He set His love upon us in a very specific way in the Gospel of Jesus. He set His love upon us to save us by dying for us, to pay for our sins, so that we might live through Him…living through Him means trusting His salvific love for you and then sacrificially loving others—"Beloved, if God so loved us, we also ought to love one another." 
If you have trusted in Christ as your Lord and Savior, feel free to change your middle name to "Beloved". Like this: "Hi, I am Dustin Beloved Folden". Try it on, out loud. I am sure your name will have a ring to it just like mine. 
The point is, when you recognize that you are loved beyond measure, you can then focus on loving others instead of being fearful. 
You can't fear someone when you are loving someone
Try it, I dare you. Try saying something kind, serving someone, praising the Lord and see if you can be fearful at the same time. You can't, because perfect love casts out fear. So often we are consumed with what people think of us and we don't interact with them in a loving way because we are fearful of what they might say or do to us. 1 John 4:18 says, "There is no fear in love" …that is because love is about serving others and caring for others, just as Christ demonstrated. 
17 By this, love is perfected with us, so that we may have confidence in the day of judgment; because as He is, so also are we in this world. 18 There is no fear in love; but perfect love casts out fear, because fear involves punishment, and the one who fears is not perfected in love.
Fear that is not a reverence for God, is self-focused
Love is about serving others, and in contrast, fear is about serving yourself. We are called to fear the Lord or have a respect and reverence for Him. But we are not called to fear and be worried and overwhelmed with thoughts of reverence for ourselves. Fear involves punishment, and so fear is concerned with what might happen to me in the short-term or in the long-term. In short, fear is self-consumed. 
Now the fear that is in focus here is not being scared as if you were face-to-face with a lion. In that scenario, I think we would all be scared and rightfully so. We want to preserve and protect life because human beings are image bearers of the King of the universe. Even when we are seeking to be good stewards of our bodies and we seek to protect life, we can do so with a reverence for the Lord. But man-centered fear is about imagining what others think of you and imagining what might happen to you as if you were the center of the universe.  
We all struggle with fear to various degrees, especially in the midst of uncertain times. But fear is to be cast out, it is not to be left to grow in greater and greater influence over our thinking and over our lives.  
Note the focus on 'perfected' in the text. We are to be perfected or matured in love because the Gospel has had a genuine impact on our life…in other words, we must constantly be growing and maturing in knowing the love of God and applying the love of God to how we live. How we think about ourselves and others is the foundation to casting out self-focused fear. The reason we must seek to cast out fear is because we are loved and we are to be conduits of God's love…not conduits of fear and self-focus. 
Perfect love seeks to grow in casting out fear. Every day is a great day to cast out fear and replace it with the love of Christ. 
Practical ways to put off fear and to love right now
Read the Bible looking to learn more about God,who is love, and how God's love is manifested in the Gospel of Christ. Each day write down one aspect of the Gospel of Jesus Christ that helps you think about the eternal, infinite, overwhelming love of God and how, in Christ, you are called "Beloved".

 

Make a list of 10 people in your life—on that list make sure you have those with physical vulnerabilities and spiritual needs. When you find yourself thinking about yourself and what might happen to you, recognize that is self-focused fear and shift your focus to pray, asking the Lord to protect one of the people on your list. Ask Him that the love of Christ will impact them so that they, too, are casting out fear.