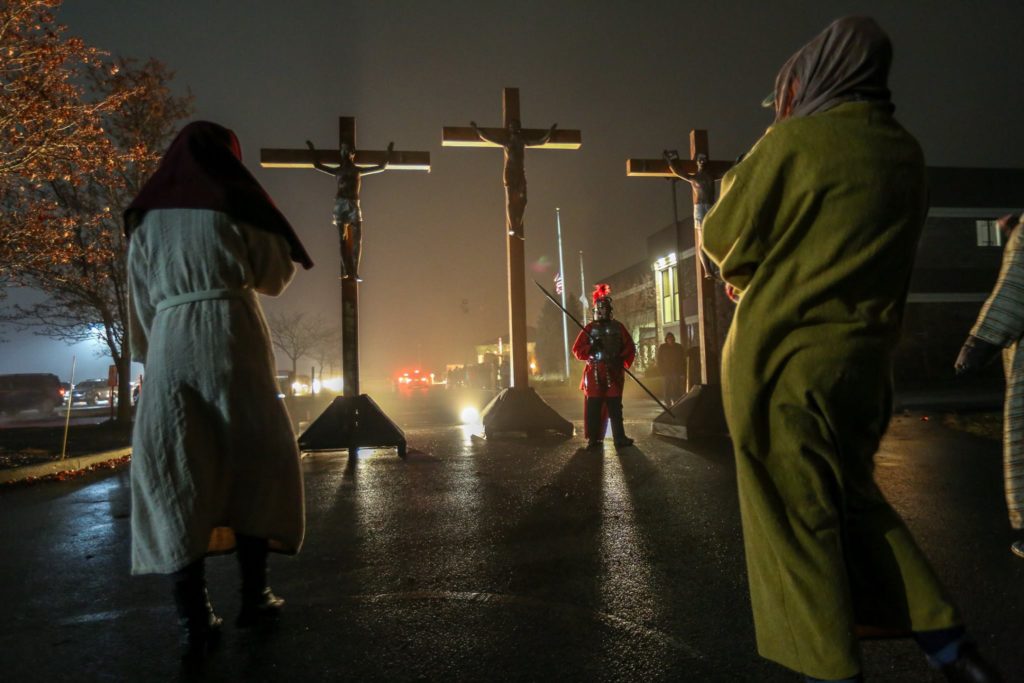 This past weekend, Vision of Hope interns and residents participated in the Living Nativity, put on by Faith Church. The Living Nativity takes place at Faith every December and is free to the community. During the two weekends that Faith hosts the Living Nativity, guests can walk or drive by 14 outdoor scenes that depict the Christmas story and the gospel message. While several of the scenes center on the birth of Jesus, the first scene is in the Garden of Eden and the last scene depicts the coming return of Jesus Christ to reign on earth.  The goal is for each guest to understand how the biblical Christmas story fits into the overall message of God's redemption.
The ladies at Vision of Hope served in the cast, meaning they each wore a simple robe costume and headdress over their winter gear. This is not the most fashionable of serving opportunities as you pull a baggy tunic thing over your multiple layers and puffy winter coat, but warmth is more important than style when serving outside in Indiana in December.  Our assignment was to serve in the crucifixion scene, as mockers at the cross. This role was much more difficult to accept than wearing shapeless costumes.
While no one looked forward to playing the role of a mocker, we understood the Living Nativity could not proclaim the message of salvation through Jesus without the cross. We encouraged each participant to read the gospel accounts of the crucifixion to see how the crowds mocked our Savior.
"Crucify him!"

"King of the Jews?!? We have no king but Caesar!"

"He saved others; let him save himself if he is the Christ of God."

 "Let him come down now from the cross, that we may see and believe."
It was a difficult, emotional serving opportunity for many of our residents, as they repeated these phrases Friday, Saturday and Sunday night as part of their role. Though challenging, it provided opportunities for each participant to consider what Christ went through on the cross, and how we have all lived as mockers of Christ.
But he was pierced for our transgressions,
    he was crushed for our iniquities;
the punishment that brought us peace was on him,
    and by his wounds we are healed.
We all, like sheep, have gone astray,
    each of us has turned to our own way;
and the Lord has laid on him
    the iniquity of us all. –Isaiah 53:5-6
We have all rejected Christ, scorned His sacrifice and gone our own way. The Lord laid our sin and our punishment on our innocent Savior, and it killed Him. This is a heavy truth and one we often gloss over, especially at Christmas. But it is impossible to quickly skip over this truth when you are playing the role of a mocker of Christ, shaking your fist and yelling up at a wooden cross three nights in a row.
"If you are the king of the Jews, save yourself!"

 "So! You who are going to destroy the temple and build it in three days, come down from the cross and save yourself!"

"Hail, king of the Jews!"
We are guilty sinners, deserving of death. Christ came to earth to die and He stayed on the cross, despite the mocking and hate and unbelief, to save us from our sins. This is what we are to celebrate at Christmas, whether we serve in the Living Nativity or not.
"She will give birth to a son, and you are to give him the name Jesus, because he will save his people from their sins." – Matthew 1:21
May you have a worshipful Christmas remembering Jesus was born to save us from our sins.