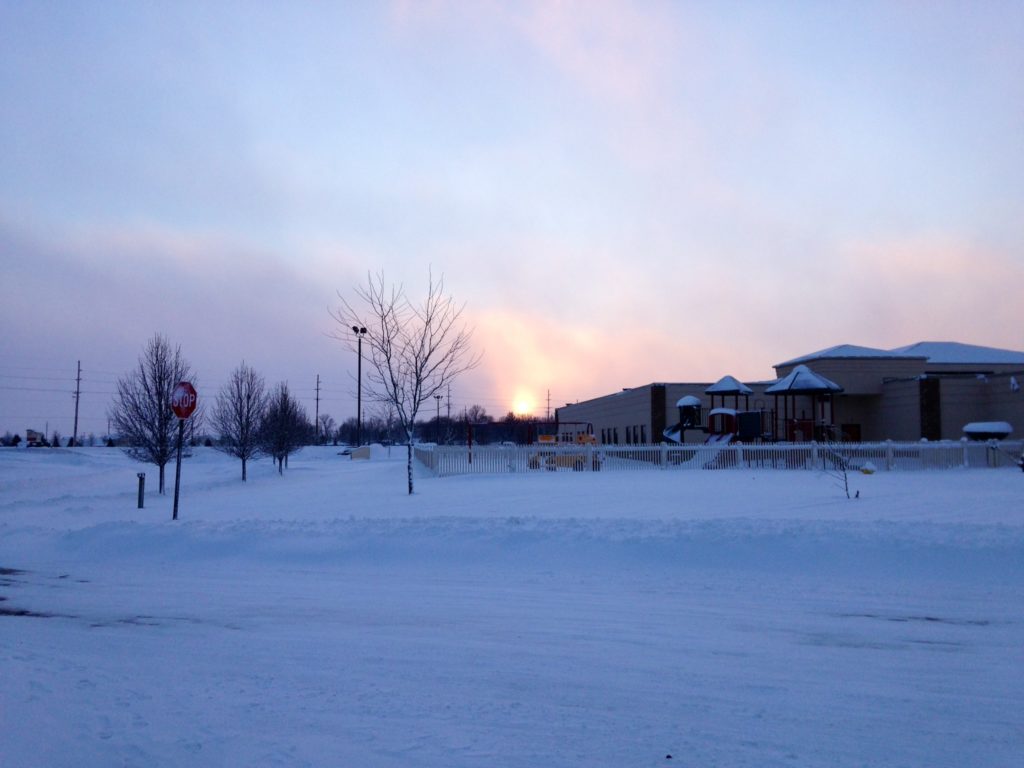 As the title suggests, this post is an attempt to hash out what might be God's intentsions with decreeing and enacting this snow storm in Lafayette, Indiana. At the same time, I can't presume to understand or predict EXACTLY what our indescribable and mighty Savior may be up to. Luckily, it's not me who's doing the predicting, it's God's Word that tells me about God's character and power. With temps nearing negative 40 degrees, wind gusts reaching 30 mph, and power blacking out across the state; what is God doing in this storm? What are we doing? Pastor Shaw's last post went into great detail about what Vision of Hope and Faith are doing in and through the storm. So, this post will focus primarily on WHY we do what we do: Because God does what He does.
Sunday morning, the proverbial "calm" before the storm, Pastor Viars gave a fantastic sermon on God's power demonstrated through creation. In the book of Romans, Paul says that God reveals Himself to us through nature. The "invisible" attributes of God are clearly made known (see chapter 1, verse 20). This verse goes on to explain what "invisible" attributes Paul is talking about: God's eternal power and divine nature. In other words, nature tells us "who God is" and "what God does."
In essence, that is what God is doing with this storm.
Pastor Viars also highlighted the Gospel: it is strewn all over the weather. The weather and the gospel are inexplicably intertwined, enmeshed. What happens in this world cannot be interpreted apart from the Gospel: from God showing people, and drawing them to Himself.
Christ's bearing the cross helps us bear the cold. If it were not for God's saving Grace and Power demonstrated on the cross, this weather (or the enjoyable sun of summer) would be purposeless (just look at Ecclesiastes for countless examples of this). Instead of a chaotic, purposeless world; God has given us a grace-filled, gospel-drenched world.
I am so thankful to have served alongside members of Faith church and the Lafayette community during this "snowpocalypse." It really revealed the extent of my pride and sense of entitlement. These revelations helped remind me of my unwavering need for God's grace and cleansing sacrifice on the cross. In the bitter cold, I had a bitter attitude. I didn't WANT to go outside and shovel the sidewalks. I didn't WANT to walk across the parking lot to serve those less fortunate than me.
It was an amazing picture of humility to see my fellow interns stepping up and demonstrating what it looks like to serve with joy! Though I didn't have that joy on my own, God used my fellow interns as bearers of the Holy Spirit's fruit. It was a joy caught like frostbite: I couldn't get away from it. God was so faithful to take and hold my attention. He took my focus off my comfort and on His joy. When the job was done, I was able to snuggle up in a warm bed and realize at that moment I had comfort AND joy (and realize I had played a small part in spreading that comfort and joy to others).
Our God is powerful, faithful, gentle, and consistent, eh? I won't soon forget His character shown in the snow.