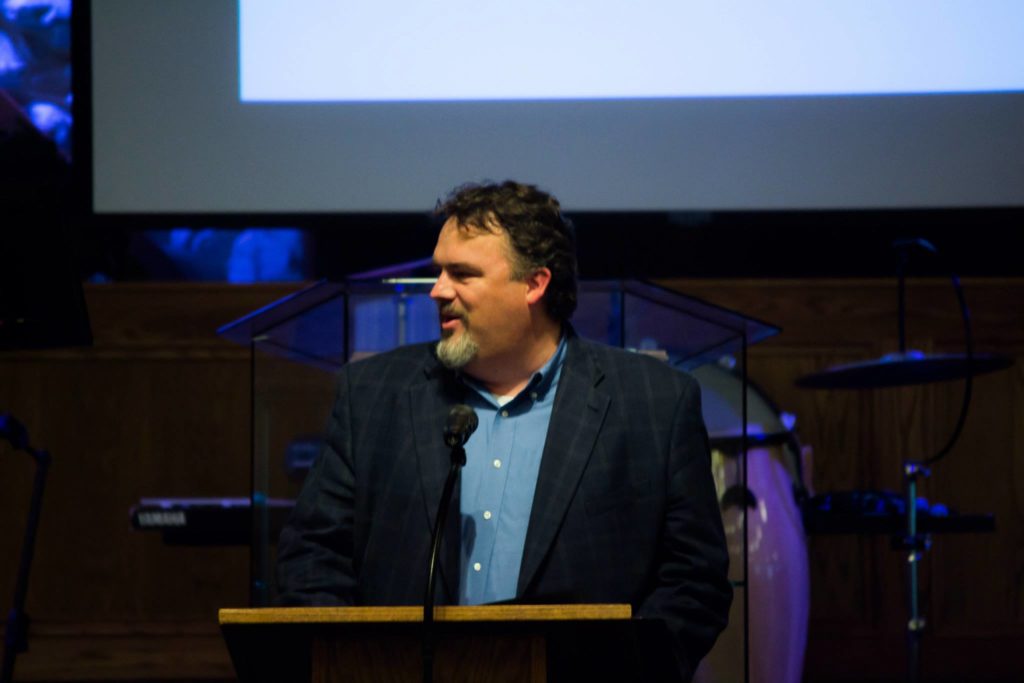 Recently, Pastor Shaw published a blog he wrote about their family's decision to come to Faith Church and serve Christ at Vision of Hope. The original blog is published on BCC's website Grace and Truth under "Reaping Where We Did Not Sow." Here's what he had to say:
Earlier this year, my wife and I made one of the biggest decisions of our lives. We chose to move to Lafayette, Indiana, for me to accept a pastoral position on staff at Faith Church and the Executive Director position at Vision of Hope. Why the decision and why was it so big to us?
Prayer Answered
Having worked outside of the local church for much of my past 22 years in the field of counseling, I became convinced that the local church has to be emphasized as the answer for addiction problems.
In our move to Indiana, the Lord gave me the awesome opportunity to lead Vision of Hope, where we are reaping where we did not sow. In John 4:38 Jesus said: "I sent you to reap that for which you did not labor. Others have labored, and you have entered into their labor."
Leadership That Equips
By God's grace, Faith Church is one of the leaders in the modern biblical counseling world. I can say that as a staff pastor now, but I saw it as an outside observer for many years. One reason Faith is a leading church in the biblical counseling world is because of their emphasis upon shepherding the local membership while simultaneously reaching out to and serving other churches and the community at large through strategic partnerships.
Pastoring and shepherding people is my heart's desire. Now, at Vision of Hope and Faith Church I get to shepherd the staff, interns, residents, and an ABF class, among others. Serving on the pastoral leadership team is a privilege, and I am learning so much from my colleagues. Working with committed deacons who consider caring for souls a high calling is refreshing. Working in a church that actually obeys the Bible by practicing church discipline is invigorating. I am grateful to be teaching and leading without the weekly pressure of preaching each Sunday. During the week I can focus upon caring for souls and doing the work of ministering the Word through relational, personal meetings. I love working in a facility that is so well connected to the local church, where strong daily oversight and support evident. Vision of Hope is a unique place because of the equipping leadership of Faith Church.
Reaching the World
My overall passion for addiction ministry encompasses a two-fold mission: to get the Gospel message back into addiction counseling and then see addiction counseling put back into the local church where it belongs. We are slowly seeing results in both phases. First, we remind people that addiction is a worship disorder of the heart sometimes called idolatry in the Bible because it is rooted in sin. Addiction is not a disease and does not require a recovery process. Rather, addiction is a sin issue which requires a transformation process as a person begins to worship the One True God.
At Vision of Hope, the staff already understands the above mission and they are committed to a genuinely biblical approach to helping care for souls. Addicts caught in the world's treatment centers are offered no real hope for lasting change that pleases God. The only hope is Christ.
Another little known aspect of the ministry of Vision of Hope is the Internship program. We host up to 12 female interns who are provided room and board (as well as practical counseling experience) as they serve at Vision of Hope. These ladies give a year of their lives to serve the Residents, learn the program, shadow the staff, and develop their gifts and abilities for the purpose of working in or possibly starting Vision of Hope-like centers around the world. Replicating leaders is what the Internship program is all about.
Heart Change
You may think about how difficult it must be to serve in a residential setting like Vision of Hope. The ultimate difficulty of serving in a program like ours on a day-to-day basis is not the conflicts between residents, nor is it the pressure of supervising staff. Rather, the daily struggle of having to look at my own heart is what challenges me the most. Working in a residential facility stretches me beyond where I like to be stretched. The Residents are not the problem: my heart is the problem and I have to practice what I preach. I have to use the 4 Rules of Communication. I have to resolve conflicts biblically. I have to forgive and ask for forgiveness. I have to model balancing the truth and grace of Jesus and a hundred other things.
Counseling people once per week is not easy. Counseling residents all day, every day is even more challenging. Imagine counseling your most difficult cases all day in the moments of regular living. Imagine the balance of confronting them and encouraging them with grace, mercy, truth, and justice. It is immensely difficult because our own hearts stray at times but God is faithful.
Ultimately, the Residents who enter the program have struggles in one or more of the following four focus areas: eating disorders, self-harm habits, unplanned pregnancies, and addictions of all types. Our concentration is not on the outward behaviors alone but on the heart that produces those outward behaviors. That is the key to transformation God's way.
The great blessing is that the Residents receive a consistent message across the board: the church teachings from the pulpit, the ABF classes, the Wednesday night studies, and the volunteers who serve at Vision of Hope all share the same message. The gospel is lifted high all day long by the staff and interns through conversational counseling opportunities and focused biblical counseling sessions. What a blessing of beautiful music to our residents who have an entire church body of believers singing the same song!
So it is easy to see why my wife and I said "YES" to this great opportunity to advance the Kingdom in Indiana.
How You Can Pray for and Support Vision of Hope
Vision of Hope is a product of a partnership of funding between Faith Church and a private foundation that began six years ago. The agreement is that the private foundation will provide almost 50% of the expenses to fund Vision of Hope for ten years. We have four years left and then we are on our own. Planning for that day of financial independence and sustainability has been ongoing since its inception. Therefore, Vision of Hope would like to enlist the regular monthly support of churches and individual donors to help us now as we plan to maintain the level of quality care that Faith Church is providing these precious young women. When considering the family of origin of most of these ladies we serve, the residents can easily be seen as our modern day orphans. Will you prayerfully consider making a charitable one-time donation to Vision of Hope or becoming a regular ministry partner through monthly giving?
Celebrating God's Providence
I have not even mentioned other aspects of our program such as the Vision of Hope Adoption Ministry, potential partnerships with overseas missions in the Dominican Republic and Romania, or the Safe Haven program that houses women in domestic violence situations or persons suffering a personal tragedy like flood or fire victims. Those are topics for another blog on another day. For now, just know that we are celebrating God's wisdom and providence in leading our family to a new mission in Indiana and are crying out to Him for wisdom and grace every moment of each new day. We are reaping where we did not sow and it is truly amazing grace.
Join the Conversation
How are you strategically reaching out to connect the gospel to those struggling with addiction?
How can your local church begin praying about starting a residential disciple-making program like Vision of Hope?
Who are the modern day widows and orphans in your church congregation? How can you shepherd them even better?