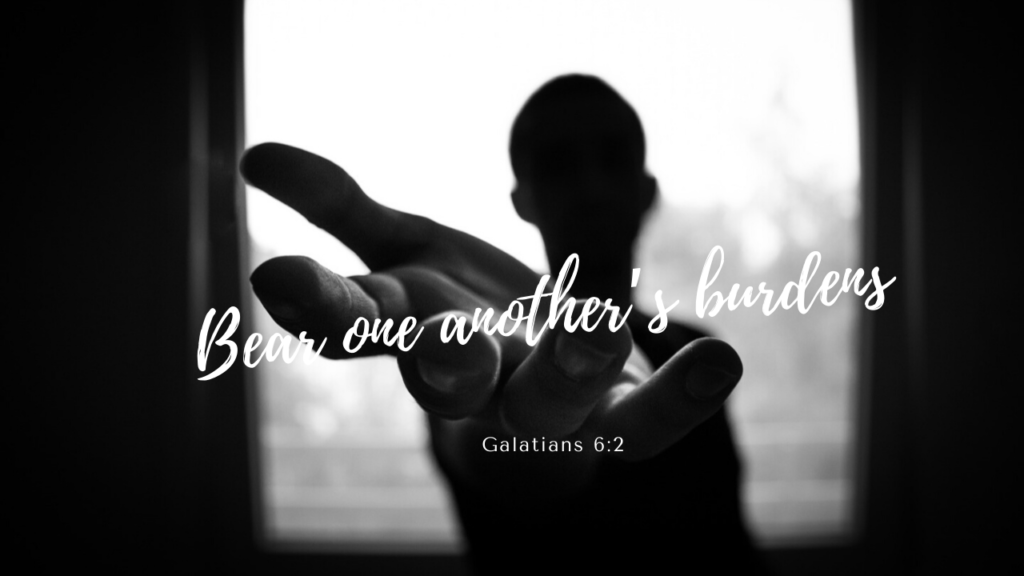 The book of Galatians reminds us, as the people of God, that we are to help, support, and bear each other's burdens.
Galatians 6:1–2 — 1 Brethren, even if anyone is caught in any trespass, you who are spiritual, restore such a one in a spirit of gentleness; each one looking to yourself, so that you too will not be tempted. 2 Bear one another's burdens, and thereby fulfill the law of Christ. 
The context here is someone who is trespassing or sinning against the Lord. Whenever you have to confront someone it is hard and a burden. It can often be done in pride, not gentleness, as you don't want to bear the weight of helping your brother or sister spiritually.
The idea of restoring someone, or mending someone, is like a fisherman's net being mended so that a weak point is strengthened.
This doesn't just apply to someone who is sinning, it also applies to those who are suffering as 1 Corinthians points out.
1 Corinthians 12:26–27 — 26 And if one member suffers, all the members suffer with it; if one member is honored, all the members rejoice with it. 27 Now you are Christ's body, and individually members of it. 
Romans also affirms the importance of being one body, because what happens to one part impacts the whole.
Romans 12:5 —  so we, who are many, are one body in Christ, and individually members one of another. 
We are to bear each other's burdens, so that there is more than one shoulder under the weight of life.  We are strengthened by one another and able to bear up under the weight of the suffering of this world. We are to do this, because we are members of one another as the body of Christ. This is what He calls and commands His followers to be marked by.
We are to be marked by the Law of Christ. Here are examples of what Jesus calls us to and points us to in God's word.
John 13:34 — "A new commandment I give to you, that you love one another, even as I have loved you, that you also love one another." 
Galatians 5:14 — For the whole Law is fulfilled in one word, in the statement, "You shall love your neighbor as yourself."  
James 2:8 —  If, however, you are fulfilling the royal law according to the Scripture, "You shall love your neighbor as yourself," you are doing well.  
Simply put bearing others' burdens is loving people. This means being willing to sacrifice your comfort to serve someone else, not just physically, but mentally, emotionally, and spiritually.
You can't go help your friend move a couch right now, but you can call your friend and see how this season is taking a toll on them and their family. You can reach out and shoulder a bit of the burden of life by showing that you care, that you love them, and that you want to know how they are responding to and processing everything going on. You can pray with them and remind them of wonderful truth from God's word, so that they are strengthened.
I am reminded in the Old Testament how Jonathan came out to the wilderness to see David when he was on the run for his life from Saul.  There is a small phrase that was meaningful to David and should be meaningful to us. It says in 1 Sam. 23:16, "And Jonathan, Saul's son, rose and went to David at Horesh, and strengthened his hand in God."
It is important to have people in our lives who are comfortable sharing their burdens with us and also people that we are comfortable sharing with as well, so that we can all be strengthened in the Lord and so that we all fulfill the Law of Christ. It may be difficult to start if you have not been accustomed to having conversations like this, but now is the time to do so even if starting is awkward and uncomfortable.
It helps us start by remembering that Jesus didn't just give us that command. He personified that command by loving us and bearing our burdens at the cross.
Christ is the ultimate burden carrier as these passages remind us:
1 Peter 2:24 —  and He Himself bore our sins in His body on the cross, so that we might die to sin and live to righteousness; for by His wounds you were healed.  
Matthew 8:17 — This was to fulfill what was spoken through Isaiah the prophet: "He Himself took our infirmities and carried away our diseases."  
He became weak, so that we could be secure and strengthened. He didn't just grab a corner. He took the full weight of our sin in our place. Because Christ bore the weight of your sin on the cross, we are freed to fulfill the law of Christ and lovingly bear each other's burdens.
So, each day, each week, as the body of Christ we can reach out to others and in small ways share the burden of life with them and strengthen one another in the Lord, because of the love of Christ.
So, my question to you is… Who are you going to strengthen in the Lord today?