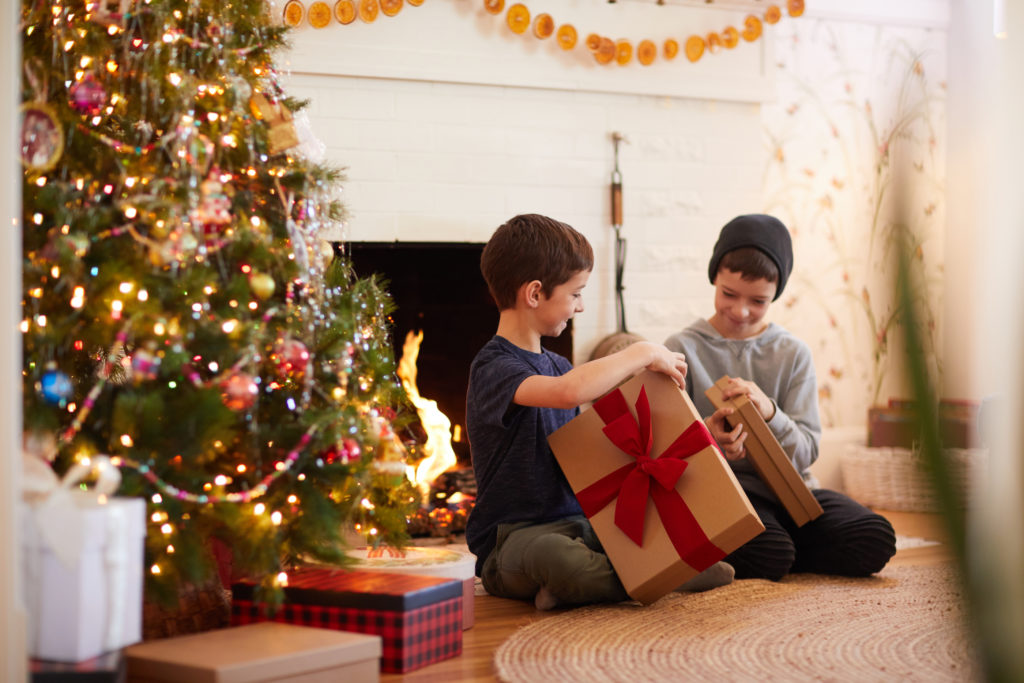 My love for Christmas has grown and changed over the years. The joy and excitement of selecting gifts for each of my children changed my heart even before I knew the Lord.  When our kids were young, I thought it was simple. In 1996, after Pixar released Toy Story on VHS, the Buzz Lightyear excitement in our home was everywhere. There was no question about how to make the boys smile on Christmas morning.  Our youngest was just 1 ½ years old, but he knew and loved Buzz. We searched and found the most adorable stuffed Buzz Lightyear.  There was no doubt in my mind that he would take Buzz everywhere with him.  Our oldest son had turned four, so a soft fluffy Buzz Lightyear would undoubtedly fall short, but no worries – toy companies were selling the 24-inch Buzz Lightyear Action figures with all sorts of sound effects (don't forget the laser)! This Buzz was cool!  I had counted another victory in Christmas shopping as I waited to see the eruption of joy as they each opened their very own Buzz Lightyear on Christmas Morning.
On Christmas morning, I watched the boys as they began opening packages. First, they unwrapped socks and pajamas. We got a quick thank you. Next package – clothes – thank you – new board game – thank you. But when my sons unwrapped their Buzz Lightyear toys, everything stopped.  The world had changed. They had received their greatest joy. Watching our children filled my wife and me with joy from the excitement in their hearts.
But even with the greatest gift on this earth, the excitement doesn't always last.  Our youngest son found his Buzz to be fantastic; That is until he began to see and hear the Buzz Lightyear Action figure that his brother had received.  Within days, I had purchased a second big Buzz Lightyear Action figure, because the excitement and joy of the stuffed Buzz had faded. You see, my youngest son wanted the same toy his older brother had. However, my motivation changed. It was no longer about giving joy and excitement as much as it was that I did not want to hear them fight over a gift.
I missed a gospel sharing opportunity to teach the boys. The joyful responses to their gifts were temporary, and their joy had quickly faded even to the point of fighting over things they did not have.  The gifts that we give one another are temporary and fading.  But the gift of God is eternal and irrevocable (Rom 6:23, 11:29). If we gain joy in the temporary, how much more will we be blessed through God's eternal gifts, including the gift of salvation.
Three Responses to the Gift of Christ
The Advent season helps us prepare our hearts in a build-up to a joyous celebration of Christ's birth. One question that follows: How will we choose to respond to the gift of Jesus Christ after Christmas? How should we as Christians respond after the excitement of Christmas and the gifts begin to wear off? Do we respond with a short-lived joy as the burdens of day-to-day life return? Does our excitement turn to something else that we see as more satisfying?  Either way, our hearts become lost, and the joy fades as the world crowds it out in a way that can never truly satisfy.
After detailing the beautiful picture of Christ's birth, the gospel writer, Luke, continues by bringing us into the temple when Jesus, our Christmas gift, is presented before the Lord.  The people involved each show us three different responses to help us learn to respond to the gift of Christ.
Loving God through Obedience
Joseph and Mary demonstrated exceptional faith in preparing for the birth of Jesus. Trusting the Lord, Joseph received Mary as his wife even though she had supernaturally conceived by the Holy Spirit. Joseph loved her and the child as his own when the world told him to do otherwise. Then in obedience to Roman authorities, the couple underwent a difficult journey to Bethlehem only to find nowhere to lodge when they arrived in Bethlehem.  Their acts of faith before Jesus' birth were equaled by their faithful response after.
While staying in a manger with smelly animals, they continued to glorify God in their response to the gift of Christ.  First, they rejoiced with the shepherds and others to whom God had revealed the birth of His Son.  Even with nowhere to stay, their hearts did not turn to bitterness and complaining, asking God why He had not provided better. Instead, Joseph and Mary responded with hearts of obedience.  Knowing that Jesus fulfilled all of the promises they learned from studying God's word, they chose to obey His Word.  On the eighth day at the circumcision, Joseph and Mary gave him the name Jesus (Luke 2:21) as the angels had commanded. After the time of purification was complete, Joseph and Mary presented Jesus before the Lord, "as it is written in the Law of the Lord, every firstborn male that opens the womb shall be called holy to the Lord" (Luke 2:23) and offered a sacrifice for him.  They did not have great wealth, but they willingly and obediently gave of what they had, joyfully offering a pair of turtledoves or two young pigeons.  Joseph and Mary's response to the gift of Christ was to choose obedience to the Lord to glorify the Father for what he had done.
Loving the Lord with Thanksgiving and Praise
Bringing Jesus to the temple "to carry out for him the custom of the Law," Mary and Joseph met Simeon, a righteous and devout man and Anna, a prophetess. Upon seeing Jesus, they each blessed God and gave thanks to God. Simeon said, "For my eyes have seen your salvation, which you have prepared in the presence of all the peoples. A light of revelation to the Gentiles and the glory of Your people Israel" (Luke 2:31-32).
To respond with thanksgiving and praise, both Simeon and Anna had prepared their hearts in advance. We do not know how many years Simeon had waited for the coming of the Messiah, but he faithfully trusted in the Lord to make him, as he was described, a righteous and devout man. Simeon's wait did not create bitterness for what he did not have. His trusted in the Lord's timing for the coming of God's promised Savior. He spent his days in prayer looking for Israel's consolation, comfort, and encouragement of his people. Anna, at 84 years old, served night and day in the temple since being widowed as much as 60 years. Anna never left the temple. She served through fasting and prayer every day. Because their minds were not filled with complaints or bitterness over what they did not have, their hearts had been prepared for the gift and were ready to receive the fullness of God's with thanksgiving and praise. Likewise, when our hearts are filled with thanksgiving and praise, it is impossible for us to lose the joy and excitement that came with the gift.
Loving the Lord by Sharing the Gift
Upon seeing Jesus, Simeon knew he was released from his time of waiting, yet he thought of others. While he rejoiced for those who would receive the Messiah, Simeon's heart was also burdened for those who would fall through their opposition to Christ. While giving thanks for what he had received, Simeon shared with Joseph and Mary the importance of their child "appointed for the fall and rise of many in Israel, and for a sign to be opposed" (Luke 2:34). For Simeon, the news of the Christ child was not something that he could keep to himself, and he started by telling Mary and Joseph. Anna could not hold the joy of the gift for herself either.  Anna "continued to speak of Him to all those who were looking for the redemption of Jerusalem" (Luke 2:38).  A gift of this magnitude cannot be contained for oneself.  A gift of this importance needs to be shared.  Will you share Christ with those who need him most?
What Will Your Response Be?
So then, as we approach Christmas day, I want to encourage each of us to continue to prepare our hearts with joy and excitement for the greatest gift ever given to humanity.  And then consider how we will respond to the gift of Jesus Christ.  Will we choose to walk in obedience?  Will we choose to walk in a manner worthy of our calling (Ephesians 4:1)? Will we choose to love the Lord with praise and thanksgiving and share the good news of Christmas well past Christmas Day? Or, will we allow the troubles of the world to smother our joy?
How will you respond? The examples of Mary, Joseph, Simeon, and Anna encourage us all that we, too, can respond in a way that loves the Lord: by living lives of obedience to Him, by sharing our gift with all who need it, and by keeping the joy and excitement through continued praise and thanksgiving.  Jesus Christ truly is the greatest gift ever given. For this reason, we need to be a part of sharing God's gift with the world.