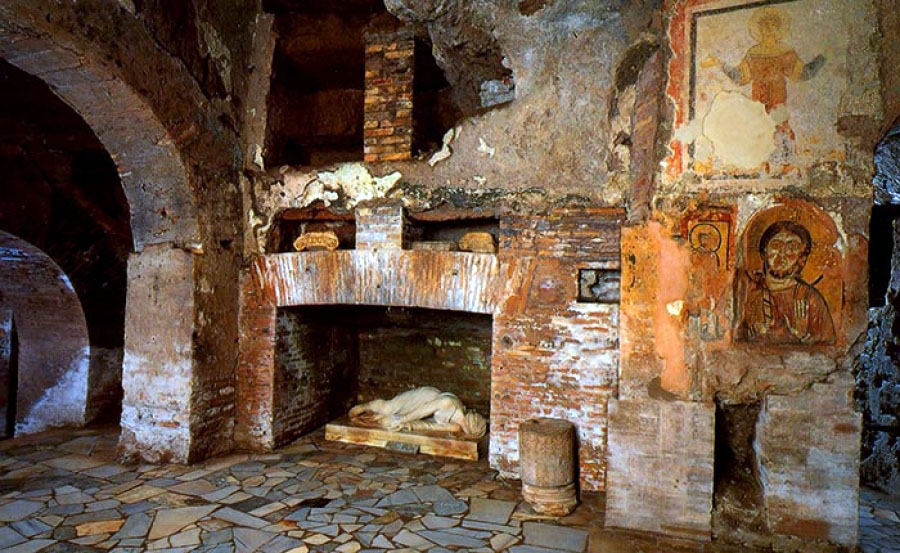 As the COVID-19 "stay-at-home" order continues to be extended, people are increasingly concerned about personal safety, employment, and what the future might hold. You might even be thinking, "This has never happened before. Where is God in this crisis?"
Take heart, the Bible has much to say about living, and having personal victories in perilous times.
The author of the book of Hebrews exhorted Christians to remain strong in a time of great adversity. Persecution of believers had become increasingly severe under Roman General Titus Vespucian. Instead of suggesting people simply suppress their faith and work to "blend in," the author gives challenging guidance on daily living in a time of uncertainty and fear.
Should Christians forgo activities that may attract attention? What about observing the Sabbath and actively praising God? In Hebrews, Chapter 10, verses 24 and 25, the author encouraged Christians including those concerned about public worship.
… and let us consider how to stimulate one another to love and good deeds, not forsaking our own assembling together, as is the habit of some, but encouraging one another; and all the more as you see the day drawing near. (NASB)
As the early church grew and more people were converted, there came a time when the Roman government legally forbade communal Christian worship. There were fewer and fewer locations where believers could gather, encourage one another, and lift their voices in praise. Believers did not want to oppose Roman law. As the new laws were enacted, Christians were forced to choose between obeying the law of God or that of Rome.
Jesus' teaching on rendering to Caesar the things that are Caesar's was a foundational tenet of a believer's daily walk. But if a law was in conflict with God's principles, Christians were called to obey God over Roman rule. The challenge was this act of disobedience validated pagan accusations that Christians were rebels to the Emperor.
When Rome passed a law forbidding unauthorized gatherings, Hebrews 10:25 put believers in direct opposition to Roman rule. One of the ways believers circumvented the law was to worship in the catacombs surrounding ancient Rome and other cities.
Over the centuries, Roman catacombs have come to assume the contemporary patina of a well-lit tourist cave. The stark reality of life in ancient Rome was that the catacombs were not pleasant "man caves." Early Christians believed in burying their departed loved ones. Their burial sites were usually outside city limits. Along with physical burial, Christians would inter their dead in underground crypts dug out of the soft rock. These burial caves would sometimes extend into a series of central spaces large enough for a gathering of believers.
Pagan Romans generally avoided Christian burial grounds. They were unclean along with being dark and malodorous. But, they provided Christians a place to gather and give praise to their God for His divine protection. In spite of the unpleasant environment, the church continued to grow as more and more came to know Jesus by candlelight in an underground mausoleum.
By no stretch of the imagination can staying at home in 2020 be likened to 1st century Roman persecution. Many of us are surrounded by conveniences unimaginable to our great-grandparents. A few weeks ago, people from across the country could watch or listen to God-honoring celebrations of Christ's resurrection at Easter from their living rooms.
Reminding believers to assemble is in no way a suggestion that we oppose the wise practices in place currently to thwart the spread of the COVID-19 virus. We have the freedom to practice and proclaim our faith publicly through social media and the internet from the safety of our homes. Thanks to technology, we can be taught, and encourage one another throughout our community, our state, and around the world.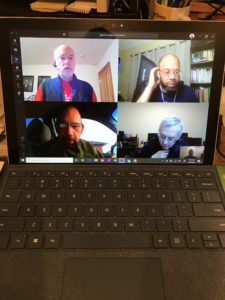 For more than a dozen years, I've been part of a small-group men's Bible study that meets weekly at a local coffee shop. Together, we have worked through Old and New Testament books, as well as contemporary books by respected theologians. We prepare, present, listen, agree, and disagree as we strive to be sincere men of faith. I have come to love these early morning "iron sharpening iron" (Proverbs 27:17) gatherings even as I have come to love my co-laborers in the Word.
After two weeks of not meeting, we agreed to get together each Thursday morning via video conferencing. Thanks to jaw-dropping technology, diverse equipment, a range of connectivity, and new software, we once again are meeting and learning. A few days ago, we concluded our verse by verse study of 1st Peter with some obligatory kidding about our casual "quarantine apparel." Once again, we marveled that a book written nearly 2,000 years ago could be so relevant to our current earthly predicament:
Beloved, do not be surprised at the fiery ordeal among you, which comes upon you for your testing, as though some strange thing were happening to you; but to the degree that you share the sufferings of Christ, keep on rejoicing, so that also at the revelation of His glory you may rejoice with exultation. (1st Peter 4:12-13, NASB)
If the early Christians could gratefully worship in underground mausoleums, can we improvise creative ways to "assemble" if only via technology? I recently chatted with a Christian friend who listed online resource after resource that he and his family are digging into during this time of quarantine. His family wants to dig deep into God's Word, and individually grow in His likeness. They believe they have been given a marvelous opportunity to do so during this time of social distancing.
Assembling together comes in many forms and styles. The Roman Christians found new ways to gather and encourage one another during a time of persecution. We have been blessed with a broad array of electronic aids to use for communication with friends and family. One of the couples in my Adult Bible Fellowship is in their 80's. I delight each Sunday to see them electronically appear in our fellowship group. New software may be a challenge, but they haven't let it stop them from assembling and encouraging those around them.
A few decades ago, a television commercial urged people to "reach out and touch someone." It is my hope that everyone reading this blog does likewise.