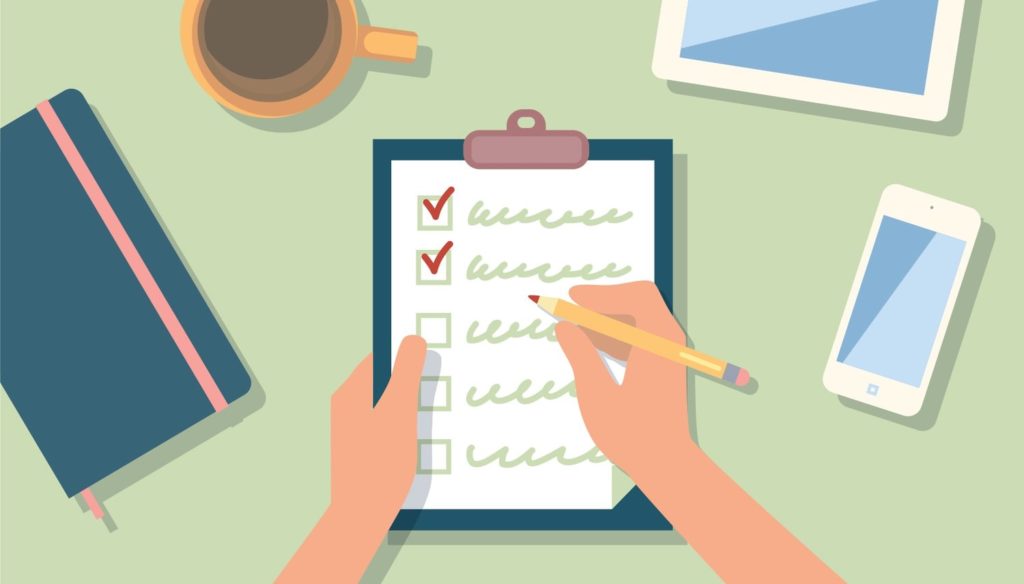 If you've been around Faith Church for any length of time, then you know that setting goals, initiatives and strategic planning is just part of the DNA of our church. But just because something is part of the DNA of our church doesn't mean it's the DNA of you personally or of your family. And if it isn't, I want to encourage you and help you think about taking steps of growth in the area of goals and planning for the upcoming year.
WHY SHOULD I PLAN AND SET GOALS?
If I were to layout a theology for why we should plan and set goals, this blog could turn into a book. The biblical support for it is immense! For example, I've been reading through the gospel of Luke and in the past couple days multiple passages that have implications for planning have been part of my reading (the parable of the dishonest manager – Lk. 16:1–9, the parable of the ten minas – Lk. 19:11–27, Jesus' teaching about the end – Lk. 21:34–36). And that's just from the past couple days!
But, the one lesson that sticks out to me most this year about the importance of setting goals and planning comes from my wife. One of my goals this year was to plan more consistent dates with my wife—easy goal to set, much hard goal to accomplish! One of the excuses that frequently would come out of my mouth for why I wasn't accomplishing this goal consistently was, "Things have just been so busy." Can anyone else relate to using that excuse for not planning? Well, my dear wife helpfully reminded me that because life is busy that's why planning is necessary!
Now, when she said it, the stupidity of my excuse immediately came to light! She is absolutely right! If life isn't busy and there is more than enough time to accomplish everything that I could ever possibly dream of or image, then planning isn't important. For example, young children do not need help planning out their busy day. Their schedule is simply, "Play!"
Life is busy. And if our culture doesn't take a drastic turn—which there isn't any evidence that it will—then there really isn't much hope that things will be less busy in the future which means that planning and setting goals is more important than ever before!
SUGGESTIONS FOR SETTING GOALS
1. Set a goal in the most important area of your life that is lacking.
For the upcoming year, set a goal that will really make a difference in your life for the glory of God. That means setting a goal in an important area in your life.
Husbands, I hope you have a goal to be a better husband by the end of 2019. Whether that has to do with how you communicate, how you lead, spending time with your wife, serving your wife, etc. make sure that your goal will make a real positive impact in your relationship that Jesus would be honored by.
For example: one of the goals that I plan on having is "to show consideration to my wife by communicating with her when plans change"—I have a selfish habit of saying something will only take a few minutes or I'll be back at this time and when that doesn't actually happen, I fail to text or call her to let her know things have changed. If that changed consistently in my relationship with my wife, it would go a long way in showing her I love and care about her interests not just my own (Phil. 2:4).
2. Recognize that changing anything significant in your life takes a lot of work.
When you make a goal that will change something significant in your life, recognize that it takes a lot of energy, thought and creativity to change it. A few years ago, when I was making goals, I was feeling really, really ambitious! I made a lot of really big goals for my life. Each month and quarter when I reviewed them what became very clear to me was that I couldn't focus on making that many big changes all at once.
Therefore, instead of making lots and lots of goals, I have started making only 2–3 big goals for the year.[1] Goals that have to do with my relationship with the Lord, my relationship with my wife and work. I haven't put less effort into the goals since I've made fewer goals. Instead I put just as much energy into these goals but have found I'm able to make changes that last as opposed to quick surface level changes that end up reverting back to how I used to be before.
Take the goal I gave as an example above. It might seem extremely simple to just send a text when my plans change—and on the one hand it is! But there is a sinful heart attitude and disposition that has been ingrained in me for a long time that leads me to be inconsiderate. Changing at the heart level takes mediation on Scripture (Ps. 119:11), persistent prayer (Lk. 18:1–8), lots of repentance (Lk. 17:3–4) and sacrifice every single day (Lk. 9:23, Rom. 12:1–2). It's only when the heart truly changes that the behavioral, external changes will endure.
3. Remember the gospel when you plan.
Finally, when you set goals, remember Jesus Christ and the gospel. My goals, and my accomplishment of my goals are not going to secure an eternity with Jesus Christ for me. Praise God for that! Because accomplishing goals is hard, and I often fail. Jesus Christ died on the cross in my place for my failures. I can take hope and be encouraged when I fail, that I am secure and loved in Christ because he took my place.
But also remember, that because of Jesus' death on the cross, the power of sin has been overcome! That means I can have confidence to set big goals that are going to be hard to accomplish and have the confidence and hope that because of his victory he'll also help me accomplish victory in my own life!
CONLUSION
Make 2019 a year of growth for the glory of God. Set a few goals that you know would honor Christ if you were to accomplish them. And then by God's grace and with his help, get after them with diligence and passion all throughout 2019. Jesus is worthy of your effort and my effort!
Join the Conversation
What goals are you making for 2019 that might help and encourage others as they are thinking of goals for next year?
What passages of Scripture encourage you to plan and set goals?
What tips have you found that help you persevere in accomplishing your goals?
[1] If you look at my initiatives on Faith Church's website, you'll notice have a lot more than 2–3 initiatives. But I make a distinction between big goals that are aimed at changing something in me, versus changing something in a ministry I am overseeing. Making character changes is very hard. So the 2–3 goals I'm talking about have to do with my character in regards to my relationship with the Lord, my wife and work.