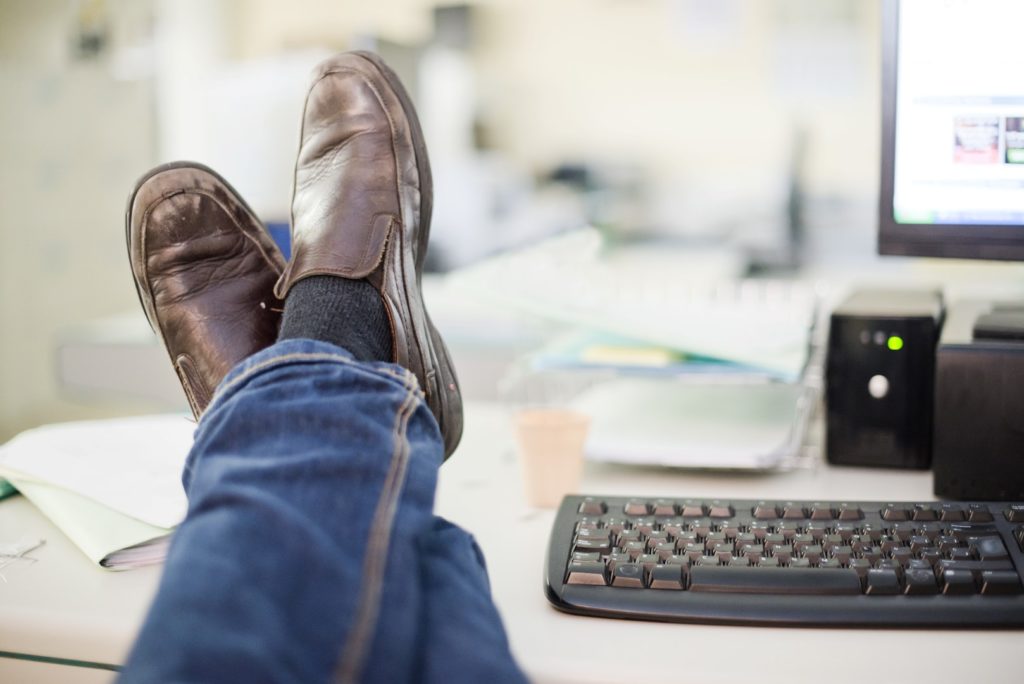 The following article is an excerpt from the teaching series "Deadly Sins" taught by Pastor Nick at Purdue Bible Fellowship.
What is laziness?
The Concise Oxford English Dictionary defines laziness this way: Unwilling to work or use energy; showing a lack of effort or care.
Laziness is an absence of work or effort or care. Something is missing. Is it something that should be there? God has much to say about the issue of laziness, and you don't have to read very far in Scripture to find it!
The concept of work/diligence originates in Genesis 2:15 when God puts Adam into the garden to work and keep it. From the beginning of God's creation, He designed man to work. Adam was responsible to tend and cultivate the Garden of Eden. God commanded him to work and keep it.
This has implications for us! Remember where we are in history – God's command to work came before the fall after God had declared his creation very good. This means work is good and from God! This backdrop helps us to understand some New Testament passages better. For example, Ephesians 2:10 says,
For we are his workmanship, created in Christ Jesus for good works, which God prepared beforehand, that we should walk in them.
God designed mankind to work. Work is not bad; it is actually an important God-given part of creation.
You might say, "THAT'S NOT MY EXPERIENCE! WORK IS HARD. WORK IS BORING. WORK MUST BE BAD!" I hear you. We all struggle with thinking that way, but God's Word tells us there is a reason for that!
The next chapter in Genesis tells us why we struggle with work and laziness. Genesis 3 famously records both the first sin (rebellion) of humanity against God and the consequences of it. Genesis 3:17-19 shows us just how sin affects our work.
This passage captures what God says to Adam as a result of his choice to sin (rebel) against Him. What is the focus of God's curse? The ground. Why is this significant? It was Adam's job to work the ground and keep it. How is this going to change Adam's life? Work will now be hard instead of easy, painful instead of enjoyable, and not fruitful instead of fruitful. Work will be tiring, exhausting and ultimately, will end in death.
This has far-reaching implications for us today! Why is work so hard and unenjoyable for us? Because of the curse of sin!
This is the starting point of laziness! Because of the curse of sin on the ground, our work is hard. Because of sin's effect on our desires, we now struggle to want to do what is hard. This is how laziness began. As we have just seen, this is contrary to God's original plan for Creation! He designed work to be enjoyable and good, to be fruitful and refreshing/life-giving, and for man to give effort and care to his work. Sin has made laziness alluring as man is unwilling to work and unwilling to give effort/care towards what God has for us!
Why is laziness a problem?
The book of Proverbs has a lot to say about why laziness is a problem!
Proverbs 6:6–11, 10:4–5, 10:26, 12:24, 14:23, 15:19, 20:4, 20:13, 21:25-26, 22:13, 24:30-34, 26:14-16
According to Proverbs, there are some significant themes that come screaming out in the life of a lazy person. Here are some of the consequences of laziness:
Poverty
Want (hunger)
Shame
Irritating others (soured relationships)
Enslavement / Menial labor
Difficult lives
Self-destruction / death!
Selfishness (caring only about yourself)
Making excuses not to do things
Failing to do your responsibilities
Thinking you're better than others
Doing nothing / sleeping a lot!
Can you relate to any of these struggles?
There is no question that laziness is a sin issue and it goes against God's plan for our lives. Yet, how do we usually respond to the issue of laziness in our life?
Unconcerned
Laugh at it
Bragging

"I never went to class and I passed!"
"I did the bare minimum to get by!"
"I was up till 3am catching Pokemon last night." (Or Netflix or whatever…)
Our hearts become hardened to this sin. I think if we're being honest with ourselves, then this is one of those sin areas that we don't typically think or talk about. You hear all sorts of teaching on purity, but laziness? Not so much. I would even go so far to say that it may even be considered one of the "acceptable" sins in the American church, similar to speeding, overeating and vanity.
How should I respond to laziness in my life?
Let's look at a few passages of Scripture to find out.
James 4:7-10 is a general response to sin. It's how we ought to handle any area of unconfessed sin in our lives. We need to humble ourselves under God's authority and turn away from the deceiver. Any time we've been living in a sinful manner is a time where we've been drawing near to something other than God. That's not what we were created for.
We are made in God's image, and we are His possession. He desires for us to represent Him on this earth. We must choose to do this in our work ethic. Take your laziness seriously. Purify your minds – think rightly about it based on what we've learned from God's word. Work hard. It is not ok to be lazy. Instead of laughing at our sin, we ought to be grieved by it. This grief should lead to true change, rather than momentary tears. This will only happen as we humble ourselves before God and live the way He intends for us.
Matthew 25:14-30 tells us what this looks like. Though this is hard to hear, this is clear instruction from Jesus Himself about what is expected of humanity. We are to be good stewards of what God has entrusted to us. All of us are gifted and skilled in particular ways, and God expects us to increase what we've been given.
If you are a college student, work hard at your studies. If you're working for a living, use your skills/abilities to do your job well. Use your creativity and gifts to make a difference in the world around you.
When we live this way and increase what God has given us, by faith in Him, then we have the promise of enjoying the master's praise and entering into a position of increased responsibility and the joy of the master. What a sweet promise!
We also see that there is not an option to do nothing with what God has given us. The servant who did nothing had a false view of his master, and as a result, he fearfully hid his talent in the ground. The master condemned him as wicked and slothful (lazy)! He chose not to work hard and failed to meet the master's expectations and was no longer allowed in the master's presence. He was separated from the joy of the master. Laziness results in separation from the master (God).
Colossians 3:23-24 and 1 Corinthians 10:31 add some helpful direction to how we ought to think about using our talents. When we work, it is essential we remember who we are working for– not mere man, but God. So, don't just do your work because your professor or boss wants you to; do it because God wants you to! Do it in such a way that brings glory to Him! Do you believe that it is possible to make much of God through your attitude about work? God does!
Let me summarize it this way: Our goal in overcoming laziness is to glorify God by serving Him and others. This is the Christian work ethic. It is not about working hard so we can have a nice, comfortable life. It is about doing the good work that God created and prepared us to do!
God's plan for you isn't high and unapproachable and inapplicable to your life. Rather, it is down in the dirt, dealing with your daily struggles and addressing real solutions for them. God wants you to get things done for Him! He made you to do good works. Laziness is a mockery of the Creation and the Creator.
God's people are called to be productive, fruitful people, which means we'll work hard and with excellence to the glory of God. Yes, it will be hard, and yes, you may not see a lot of "fruit" from your labors. I would encourage you to not only focus on the "here and now" results of your efforts; remember the place of eternity in this process!
Heaven ought to motivate Christians to live lives of significance rather than laziness. We know that our efforts to glorify God and serve others here and now will reap eternal benefits later. Plus, if God's creation before sin had work in it, then what do you think God's restored creation after sin will be like?  It will be a place where man works – and that is GOOD! Heaven will not be a place where we float around on clouds and play harps all day – it will be a perfected creation which is the perfect work environment.
In closing, I want to leave you with several practical applications of God's view of laziness:
Trust Jesus – if you're reading this and you don't know Jesus Christ as your Savior and Lord, then that's step one. In order to handle life God's way, you first have to be God's kind of man or woman. That means trusting in Jesus alone to rescue you from your sin. Once you've done that you can…
Be God's kind of person

Work hard (Matt. 25:14-30; Gal. 6:9)
Work with excellence (Col. 3:23-24)
Make the most of your time (Eph. 5:15-16)
Do all to the glory of God (1 Cor. 10:31)
Take the sin of laziness seriously
Humble yourself and realize this will only happen by God's grace (James 4:7-10)