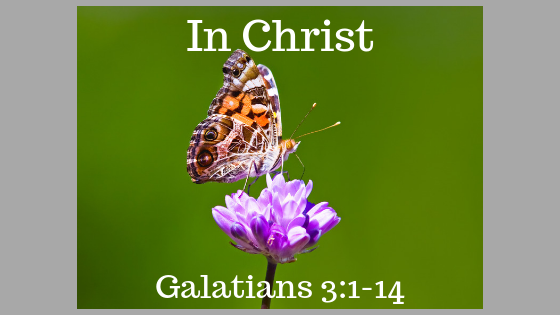 This school year in 4:TWELVE Student Ministries we are working our way through the books of Galatians, Ephesians, Philippians, and Colossians. We have titled this series, In Christ. All of these books will teach some deep lessons about the application of the Gospel in our lives.
      We want our parents to be able to track along with our lessons and be able to discuss the topics we are covering with your teens. We will include the follow-up discussion questions that were discussed in small groups so you can hear your teen discuss these questions. Please use this tool as we seek to assist parents in raising their teens in the way of the Lord.
This week we turned to Galatians 3:1-14 as we discussed that faith in Christ is the only means for righteous living.
Galatians 3:1–14 (NASB95)
1 You foolish Galatians, who has bewitched you, before whose eyes Jesus Christ was publicly portrayed as crucified? 2 This is the only thing I want to find out from you: did you receive the Spirit by the works of the Law, or by hearing with faith? 3 Are you so foolish? Having begun by the Spirit, are you now being perfected by the flesh? 4 Did you suffer so many things in vain—if indeed it was in vain? 5 So then, does He who provides you with the Spirit and works miracles among you, do it by the works of the Law, or by hearing with faith?
6 Even so Abraham believed God, and it was reckoned to him as righteousness. 7 Therefore, be sure that it is those who are of faith who are sons of Abraham. 8 The Scripture, foreseeing that God would justify the Gentiles by faith, preached the gospel beforehand to Abraham, saying, "All the nations will be blessed in you." 9 So then those who are of faith are blessed with Abraham, the believer. 10 For as many as are of the works of the Law are under a curse; for it is written, "Cursed is everyone who does not abide by all things written in the book of the law, to perform them."
11 Now that no one is justified by the Law before God is evident; for, "The righteous man shall live by faith." 12 However, the Law is not of faith; on the contrary, "He who practices them shall live by them." 13 Christ redeemed us from the curse of the Law, having become a curse for us—for it is written, "Cursed is everyone who hangs on a tree"— 14 in order that in Christ Jesus the blessing of Abraham might come to the Gentiles, so that we would receive the promise of the Spirit through faith.
Review of Galatians 1 and 2
Paul has defended his position on the Gospel as being from God and being true.
Paul has emphasized the Gospel saves and not our works.
Paul has refused to share the church with those who are against the pure Gospel.
Paul has confronted Peter for not being consistent.
Is the GOSPEL is for just salvation! (1-5)

A series of questions

You foolish Galatians, who has bewitched you before whose eyes Jesus Christ was publicly portrayed as crucified?

By calling them foolish he was not implying that they were stupid when it came to the intellect.

Read chapter 2 again and see that he was writing in a very intellectual way to them.

He was implying that they were spiritually foolish.
He was not calling them names, but rather challenging them.

He calls them his children.
He was close to them.

Paul was challenging them with their lack of connecting solid theology with their worship. (Who has bewitched you?)

An important reminder for all of us.

"One of the most dangerous dichotomies in the Christian life is for the spiritual to be divorced from the doctrinal, experience from theology."[1]
Your spiritual life must be rooted in solid theology or you will be led astray.

Jesus Christ was crucified for all to see. It was out in the open to make the way for us to be made right with God.

Why did Christ die?

To save us.
Because our works could never make us right with God.

Christs sacrifice sealed our possible redemption.

1 Corinthians 2:1–5 (NASB95)1 And when I came to you, brethren, I did not come with superiority of speech or of wisdom, proclaiming to you the testimony of God. 2 For I determined to know nothing among you except Jesus Christ, and Him crucified. 3 I was with you in weakness and in fear and in much trembling, 4 and my message and my preaching were not in persuasive words of wisdom, but in demonstration of the Spirit and of power, 5 so that your faith would not rest on the wisdom of men, but on the power of God.

"A Christian is not someone who knows about Jesus, but one who has "seen" Him on the cross. Our hearts are moved when we see not just that He died, but that He died for us. We see the meaning of His work for us.  We are saved by a rationally clear and heart-moving presentation of Christ's work on our behalf." – Tim Keller

Did you receive the Spirit by the works of the Law, or by hearing with faith?

It is impossible to receive the Holy Spirit through your works.
You receive the Holy Spirit because of the Gospel.
How are we given new birth?

John 3:5
James 1:18
1 Peter 1:23
"This is why Jesus can say that we are given new birth through the Spirit (John 3:5), yet James (James 1:18) and Peter (1 Peter 1:23) can say we are given new birth through the word of God. They are indivisibly linked.  The Spirit does not work apart from the Gospel." – Keller

Are you so foolish?

Again you are not connecting your theology with your worship.

Having begun by the Spirit, are you now being perfected by the flesh?

Do you really think that you get saved because the Gospel, but you grow by doing works?

"Christians think that we are saved by the Gospel, but then we grow by applying biblical principles to every area of life. But we are not just saved by the Gospel, we grow by applying the Gospel to every area of life." – Dick Kaufmann

Did you suffer so many things in vain – if indeed it was in vain?

There is reason to believe that there was persecution in Galatia by the Romans for those who accepted Christ.
So did they believe and suffer persecution for something they could have avoided by just doing good deeds?

Does He who provides you with the Spirit and works miracles among you, do it by the works of the Law, or by hearing with faith?

The same question as 4 only in reverse. So same answer applies.

How was Abraham Saved? (6-9)

Abraham believed in God and that is what was credited to him for righteousness.

Genesis 15:6 (NASB95) Then he believed in the LORD; and He reckoned it to him as righteousness.
What does it mean that if was reckoned (or credited) to Him as righteousness?
"Of course faith in God's Word and promise results in righteousness! If we believe God exists, and that we owe Him our obedience and worship, then out of that will flow righteous living." – Keller

There is something deeper here when we consider that it was credited to him as righteousness.

"If we compare other verses in which the same grammatical conclusion … that the crediting of Abram's faith as righteousness means 'to account him a righteousness that does not inherently belong to Him'." – Douglas Moo

This is a legal term.

Justification

The righteousness of Christ covers your sin.
You are no longer condemned for your acts.
You are righteous because Christ is righteous.
Abraham was not justified by his works earning righteousness, but by the righteousness of Christ.

The real children of Abraham are those who have faith in Christ alone. (6-9)

This would have been shocking to the Judaizers.
This would have made them upset.

Christ Overcame the Curse of the Law (10-14)

Those who try to achieve righteousness by the works of the Law are cursed because it is impossible to follow the whole law (10-12)

"This means that, psychologically, everyone who is seeking to save themselves by their own performance will experience a curse subjectively. At the very least, attempting to be saved by works will lead to profound anxiety and insecurity, because you can never be sure that you are living up to your standards sufficiently, whatever they may be.  This makes you over-sensitive to criticism, envious and intimidated by others who outshine you.  It makes you nervous and timid (because you are unsure of where you stand) or else swaggering and boastful (because you are trying to convince yourself of where you stand).  Either way, you live with a sense of curse and condemnation." – Keller

Christ died the death of the cursed ones so we can be free from the curse. (13-14)

When a person had violated the law in a way that required capital punishment in the Old Testament they were stoned and then their body was hung on a tree as a reminder that they had violated the law.
Christ was hung on a cross (tree) because He took the violation of the laws that we all did on himself.
2 Corinthians 5:21

"Salvation means much more than forgiveness. We do not simply have our slate wiped clean; we also become perfect in God's sight.  And we stay perfect in God's sight.  We do not begin by trusting in Christ's curse-becoming, blessing-giving death for us, and then continue 'by human effort', as though we must now earn ongoing blessing.  That is foolish.  We go on as we began, having our hearts melted and molded by knowing and trusting Christ crucified.  We never move on from the gospel – we never can, and never need to." – Keller

The Gospel not just for justification, but also for sanctification. (Application)

There are 2 competing systems that were being discussed for salvation.

Works based
Gospel based

In our spiritual lives there are 2 competing systems for living for Christ.

Works based

I must do the hard work of the Christian walk. I need to do more.
I work in a certain way to prevent sins.
I work to stop these sins.
I am the way to righteous living.

Gospel based

This is based on repentance.
My sins are not removed by good deeds or my own effort.
My sins are removed by the finished work of Christ on the cross.
I repent.

How to deal with our sin in a Gospel based way.

"So we should never say: Lord, I have a problem with anger. Please remove it by your power! Give me the power to forgive.  Rather, we should apply the gospel to ourselves at that point.  Paul would tell us that uncontrolled bitterness is a result of not living in line with the gospel.  It means that though we began with Jesus as Savior, something has now become our functional savior in place of Jesus.  Instead of believing that Christ is our hope and goodness, we are looking to something else as a hope, to some other way to make us feel good and complete." – Keller

So all of our sins become a god we are trying to find our comfort, approval or control from.
We need to repent of these gods trying to take the place of God in our lives.
We need to turn to the righteousness of God to cover these rebellions and gods in our life.
There is no hope in your effort for salvation.
There is no hope in your effort for God-honoring living.

Discussion

Why is it easy to forget that the Gospel ensures our acceptance by God even once we are saved?
How does justification change our Christian lives?
How does trying to live by works cause the curse of insecurity on those who are living by works?
[1] Timothy George, Galatians, vol. 30, The New American Commentary (Nashville: Broadman & Holman Publishers, 1994), 206.