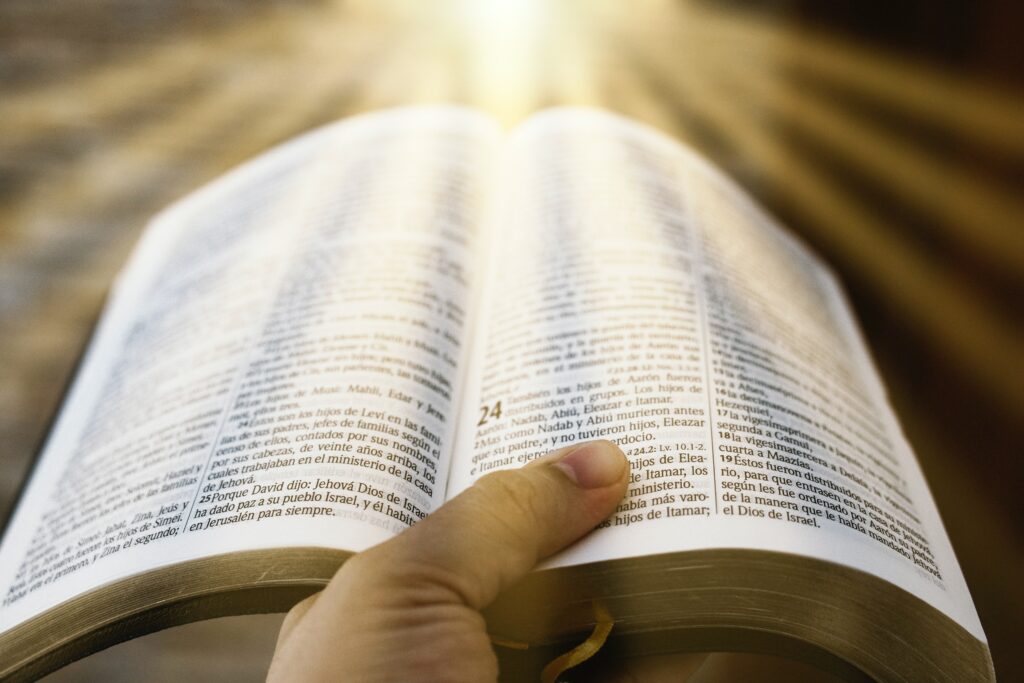 Life is tough right now.  Many of us are weary and discouraged because our lives are really hard.  Some of us are facing circumstances we never thought we would have to face—failed or failing marriages, rebellious children, loss of careers or businesses, deaths of loved ones due to the pandemic, violence on the streets.  This may be just the tip of the iceberg.  So many painful situations.  Life seems so out of control that some of us may be questioning our long-held beliefs about God.
Yet, we shouldn't be surprised.  We live in a fallen world, populated by sinful people, that's not likely going to get better.  But more importantly, we shouldn't lose heart.  We can be assured that God knows, and He cares.  He really is intimately involved in each and every situation we're facing.  And thankfully in His wisdom He knows exactly what He's doing.  He knows how each of our lives should go, and He alone knows how He will use what we go through to conform us to the likeness of His Son Jesus Christ as He prepares us for eternity with Him in His glorious kingdom.
The Bible certainly doesn't sugar-coat the challenges we face in this life.  We have to understand that God uses difficulties and trials to help us develop perseverance.  The Scriptures speak directly about the challenges we should expect in this life and the importance of growing in perseverance through them. Here are just two passages that speak of the importance of perseverance:
James 1:2-4 – Consider it pure joy, my brothers, whenever you face trials of many kinds, 3 because you know that the testing of your faith develops perseverance. 4 Perseverance must finish its work so that you may be mature and complete, not lacking anything.
Romans 5:1-5 – Therefore, since we have been justified through faith, we have peace with God through our Lord Jesus Christ, 2 through whom we have gained access by faith into this grace in which we now stand. And we rejoice in the hope of the glory of God. 3Not only so, but we also rejoice in our sufferings, because we know that suffering produces perseverance; 4 perseverance, character; and character, hope. 5 And hope does not disappoint us, because God has poured out His love into our hearts by the Holy Spirit, whom He has given us.
Helping Counselees
As counselors, how do we help our counselees grow in perseverance in the difficult circumstances they are facing?
We can encourage our counselees to consider what perseverance, patient endurance and faithfulness look like.  Spend time studying God's character and His attributes.  God needs to be bigger than the counselee's problems. By focusing on the true character of God and looking for ways He has demonstrated His character in our counselee's life, our counselee can find hope in God's promises to help grow in perseverance.
We should show our counselees compassion.  Take the time to listen well without being judgmental or critical. We need to enter into our counselee's suffering.  Sharing the burden makes the burden easier to bear.  We have to be careful not to come up with "cookie cutter" solutions.  What may have been beneficial to one counselee doesn't mean that it's a "one size fits all" strategy of counseling.
Asking good questions helps us discern where our counselees are experiencing discouragement, which can hinder them from growing in perseverance.  Wrong expectations, perfectionism, heavy burdens, hopelessness, lack of a sound theology of suffering, or lacking an eternal perspective of life can handicap a person from learning to persevere.
We can help our counselee understand that the Lord Jesus Christ understands what he or she is going through.  He entered our world to become one of us to experience firsthand what life in a fallen world is like.  Jesus graciously chose to become our merciful and compassionate High Priest who is able to sympathize with our weaknesses and heartaches.  Many have found comfort by studying the ways Jesus suffered while on earth and realizing Someone really does understand how hard life this side of heaven really is.   He welcomes us to run to Him to find His help and receive His grace in our times of need (Hebrews 4:14-16).
If our counselees hope to grow in perseverance, they will have to grow in their knowledge and understanding of God, putting their trust and hope in Him, and obeying His commands even in the face of trouble or opposition.
Applying God's Word
Study the following passages with a counselee and together answer the question: "What benefits to growing in perseverance do we see in this passage?"
2 Peter 1:5-9: Be effective in our knowledge of the Lord Jesus Christ.
Hebrews 12:1-3: Keep on going in the face of opposition with determination and steadfastness.
Romans 5:1-5: Rejoice in the glory of God as well as rejoice in our sufferings because they produce perseverance, character, and hope.
James 1:2-4: Grow and mature in our faith.
Hebrews 10:35-39: To continue to do the will of God when faced with hardship or opposition.
2 Thess. 1:3-5: Be living testimonies of the grace of God.
2 Thess. 3:1-5: Trust in God that He will supply the strength and protection needed to continue to obey even when persecuted.
These passages reveal to us that the Christian life in a fallen world is not easy or comfortable—it's more like a marathon than it is a sprint!
Ask good questions of each passage.  For example:
Why is it important to be effective in our knowledge of Jesus Christ?
Why is it important to mature in our faith?
What is the will of God for me in this hardship?
What kind of testimony am I displaying to others in the midst of my difficulties?
Spend time deciding how to apply what you've learned from each passage:
How can I grow in my knowledge of Jesus Christ?
Have I asked God for His grace in this situation? And have I been acknowledging His grace and thanking Him for it?
What would it look like to face opposition with determination and steadfastness?
Life is hard, and it may get harder.  If we hope to glorify God and be living testimonies for Him, we will have to learn to run this race with perseverance.  And by God's grace we will finish the race well!
Hebrews 12:1 – Therefore, since we are surrounded by such a great cloud of witnesses, let us throw off everything that hinders and the sin that so easily entangles, and let us run with perseverance the race marked out for us.
---
Photo by Oscar Ivan Esquivel Arteaga on Unsplash