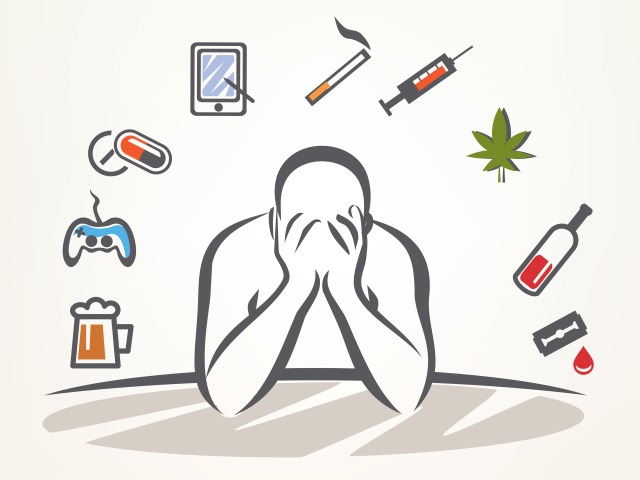 You've probably heard someone define insanity as, "doing the same thing over and over again and expecting a different result." There sure is a lot of truth to that statement. And it probably wouldn't take you or me very long to start picking out "insanity" in our own lives. Whether it's something as mundane as staying up too late and then being exhausted the next day and committing to go to bed sooner, only to be doing the same routine again the next evening. Or whether it's more extreme like pornography or alcohol. Claiming to never do it again because of how awful and empty it leaves you, but then finding yourself searching the same sites again, or visiting the same liquor store again.
Why is it that we are so prone to insanity? Doing the same thing over and over again, but hoping to get a different result? No one stays up late watching a movie because they enjoy being exhausted the next day. No one enjoys the guilt and emptiness after indulging on pornographic content online. And no one enjoys the hangover, financial burden of drinking, or the problems that they tried to forget about rushing back at them as soon as sobriety comes back. If no one actually wants what the outcome of those activities actually brings, then why do people (and us!) continue to do the same things that bring misery, emptiness and hopelessness?
To answer that question I'd like to consider the first few verses of Isaiah 55.
1"Come, everyone who thirsts, come to the waters;
and he who has no money, come, buy and eat!
Come, buy wine and milk without money and without price.
2 Why do you spend your money for that which is not bread,
and your labor for that which does not satisfy?
Listen diligently to me, and eat what is good,
and delight yourselves in rich food.
3 Incline your ear, and come to me;
hear, that your soul may live;
The Sanity of Addiction
In v.2, the Lord ask his people why they are spending money on that which isn't bread, and why they are laboring for that which doesn't satisfy. The answer is NOT because they want something other than bread and they want something other than satisfaction.
The answer is, they believe what they are buying IS bread and that what they are laboring for WILL bring satisfaction! Verses 1–2 of this chapter highlight a reality that is true of every single person that has ever lived on this planet. Everyone is thirsty and hungry. Everyone is looking to be filled and satisfied.
What our society calls addiction is simply an extreme example of someone searching, laboring and spending everything they have in order to be filled and satisfied. If everyone is born desperately thirsty and hungry and only the Lord himself can satisfy[1], then it makes sense that all of us would be doing whatever we can in order to quench that thirst and hunger. This is the sanity of addiction and all idolatry (whether it's labeled an addiction or not). Starving people are going to eat anything that they believe can fill them. Things that most of us who have never been in that position wouldn't even imagine could be thought edible starving people will eat.
Here's the point: Alcohol, pornography, substance abuse, self-harm, spending sprees, workaholism and so much more that obviously is destroying peoples' lives is done in an attempt to find satisfaction, joy, comfort, peace and rest.
The Insanity of Addiction
Here's the insanity…Jesus offers water to anyone who thirsts—which is all of us!—and food to anyone who is hungry—which again, is all of us! Why don't we accept his offer of FREE water, and FREE food and FREE wine and milk (v.1)? There a couple answers in the text.
First, we don't want it to be free. You may balk at that and say, "actually no, I love free!" And while that may be true, we don't like the reason that Jesus' offer is free. He offers it for free and prohibits us trying to pay anything for it, because we have absolutely nothing to offer! You see, in order for me to accept this free gift, I have to admit that I am hopelessly bankrupt and desperate apart from his free gift. That's not the most flattering picture for you or for me, and yet, that's exactly what we must admit and believe if we are going to receive the satisfaction and filling that Jesus alone can give. I have no trading, paying or bartering power at all. All I have is my need and must bring that to Jesus alone.
A second reason that we don't take the Lord's offer is because we believe that what we are buying and laboring for is actually good and worthwhile. That's why at the end of v.2 and the beginning of v.3 the Lord says, "Listen DILIGENTLY to me…INCLINE your ear, and come to me; HEAR, that your soul may live." We believe that what we are seeking will actually satisfy us, and so we don't even care to listen to the Lord or anyone else that tries to share with us that what we are seeking after isn't actually going to get us what we want. In fact, it's going to bring us the exact opposite of what we're searching for. Instead of being filled, we will be more and more empty. Instead of joy, we'll be more and more depressed. Instead of peace, we'll be more and more anxious. Instead of security, we'll be more and more fragile.
The sanity of our sin, addiction and idolatry is that we are truly starving and searching like mad to find food for our souls. The insanity of our sin, addiction and idolatry is that the Lord offers us exactly what all of us are searching desperately for…"good" and "rich food" that will delight us, fill us and bring life (vv.2–3).
Conclusion
So, if you're in the midst of an incessant pursuit of satisfaction and are only finding yourself more and more empty. Hear the call of the Lord in Isaiah 55. There is water, food, milk and wine without price, because Jesus Christ paid for the price of that food with his life. He offers it freely to us, but in order to receive it you must come to him truly desperate, admitting that you need his free gift of grace and that you have nothing to offer. Then, do as the end of v.2 and 3 command. LISTEN DILIGENTLY. INCLINE YOUR EAR. Open God's Word every day and listen to the teaching of Scripture so that you may "hear, that your soul may live."
If you're working with someone who is struggling and searching for satisfaction but coming up more and more empty. Be faithful to share the invitation of the Lord with them. Share the good news of the gospel and the feast that is available to everyone who would trust in Jesus as their Lord and Savior. But also pray. Pray fervently that the Lord would open their eyes not only to the incredible emptiness inside of them, but also to the truth that Jesus Christ alone is what can fill them. Nothing can break the enslaving "insanity" of our hearts and souls, except the life transforming power of the gospel of Jesus Christ (cf. Eph. 2:4–5, 2 Cor. 5:17).
[1] Philippians 4:11–13 11 Not that I am speaking of being in need, for I have learned in whatever situation I am to be content. 12 I know how to be brought low, and I know how to abound. In any and every circumstance, I have learned the secret of facing plenty and hunger, abundance and need. 13 I can do all things through him who strengthens me.