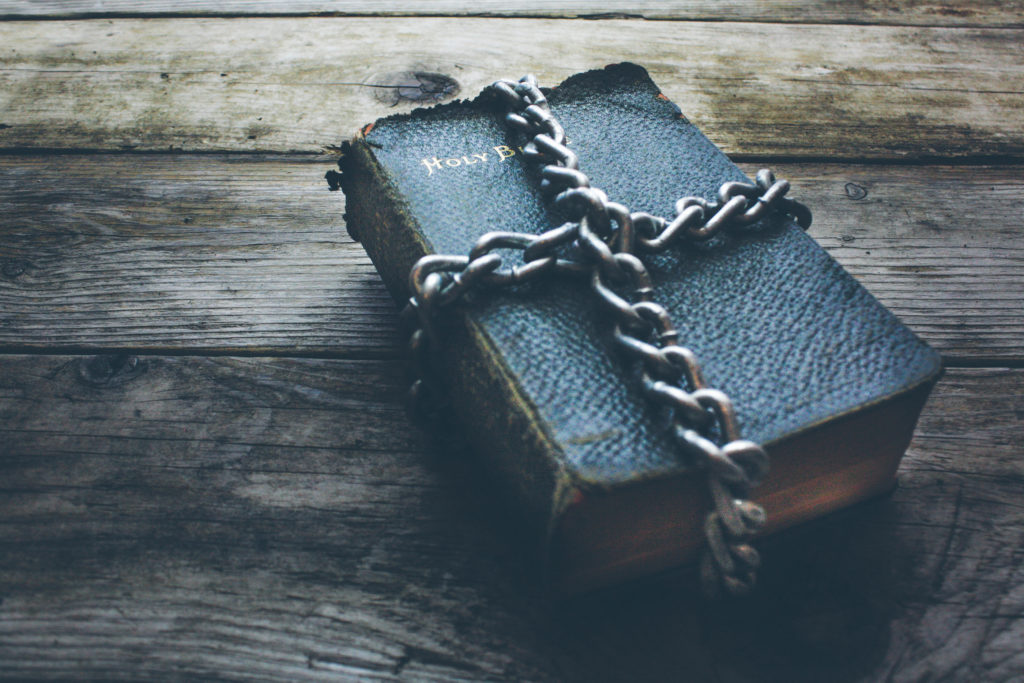 Over the last few months and years, religious persecution for many seems to be on the rise. One need only to read the headlines of national media sources to see that there is a battle for the religious rights that our nation was founded on, and the desire to strip Christians of these freedoms. Many Christians have fought hard to preserve and protect these freedoms. But not only are those rights in jeopardy, there is a wave of persecution that has been coming for believing in the Gospel of Jesus Christ and trying to live it out.  The Christian, however, should not be surprised at or despair because of this, but rather carefully prepare for the persecutions that we see around us.
How to Think about Persecution
The promises of the Scriptures contain some of the most comforting words. When a believer is going through trials, temptation, and loss, they need look no further than the promise of God to find hope during dark times. God gives His people these promises so that, during these times, they will know that He is near, that He loves them, and that He will never forsake them.
But there are another set of curious promises in Scripture that we sometimes skip over: the promise of persecution. Many in the US seem shocked that persecution is coming to the Church; and, while we should lament that our nation is moving further away from God, we should not be surprised. Notice how often the promise of persecution occurs in so many different places in God's Word:
"Remember the word that I said to you, 'A slave is not greater than his master.' If they persecuted Me, they will also persecute you; if they kept My word, they will keep yours also." (John 15:20)
"Indeed, all who desire to live godly in Christ Jesus will be persecuted."  (2 Timothy 3:12)
"Through many tribulations we must enter the kingdom of God."" (Acts 14:22)
"For we who live are constantly being delivered over to death for Jesus' sake, so that the life of Jesus also may be manifested in our mortal flesh." (2 Corinthians 4:11)
"For this finds favor, if for the sake of conscience toward God a person bears up under sorrows when suffering unjustly." (1 Peter 2:19)
"Now I rejoice in my sufferings for your sake, and in my flesh I do my share on behalf of His body, which is the church, in filling up what is lacking in Christ's afflictions." (Colossians 1:24)
"Many are the afflictions of the righteous, But the Lord delivers him out of them all." (Psalm 34:19)
The Christian should think about persecution not only as something to not be surprised by, but that it is a normal part of their life here on this earth. Christ said it so clearly that if they persecuted Him, they will persecute us as well. We should consider it a gracious thing from the Lord that we are permitted to suffer the way that Christ suffered, and that in our suffering through this fiery ordeal, we are given the opportunity to make Christ conspicuous to the world.
What to Value During Your Testing
But as we endure and make Christ visible to the world, we have to do more than just think rightly about our situation, we need to value what Christ values. The picture that the Scriptures portray of Christ during His suffering is one that many of us find uncomfortable.
"Now the passage of Scripture which he was reading was this: "He was led as a sheep to slaughter; And as a lamb before its shearer is silent, So He does not open His mouth. "In humiliation His judgment was taken away; Who will relate His generation? For His life is removed from the earth."" (Acts 8:32–33)
"He was oppressed and He was afflicted, Yet He did not open His mouth; Like a lamb that is led to slaughter, And like a sheep that is silent before its shearers, So He did not open His mouth." (Isaiah 53:7)
"and while being reviled, He did not revile in return; while suffering, He uttered no threats, but kept entrusting Himself to Him who judges righteously;" (1 Peter 2:23)
"Take My yoke upon you and learn from Me, for I am gentle and humble in heart, and you will find rest for your souls." (Matthew 11:29)
"And those passing by were hurling abuse at Him, wagging their heads." (Matthew 27:39)
The picture that we get of what Christ values as He suffers is a quiet, composed spirit that seeks to point those who are persecuting Him to the Father. We see similar attributes of David in the Psalms as he suffers unjustly because of his desire to live for God.
Consider that as you face trials and hardships because of your faith in God, that you have purposely composed a quite heart that entrusts yourself to the Lord. Desire that you will see your suffering as part of God's plan in this world, and your greatest desire in the midst of the suffering is God's glory and the furthering of the Gospel—even when it is at your expense.
"Then Jesus said to His disciples, "If anyone wishes to come after Me, he must deny himself, and take up his cross and follow Me. "For whoever wishes to save his life will lose it; but whoever loses his life for My sake will find it. "For what will it profit a man if he gains the whole world and forfeits his soul? Or what will a man give in exchange for his soul?" (Matthew 16:24–26)
Actions to Take During the Trial
Lastly, we need to consider how we will act when hard times come. We need look no further than what it means to be a Spirit-filled Christian to see what our actions should look like.
"But the fruit of the Spirit is love, joy, peace, patience, kindness, goodness, faithfulness, gentleness, self-control; against such things there is no law" (Galatians 5:22–23).
When we are living this way, when we seek to make God's name great and do not seek our own protection, then we have one of the greatest promises when persecution comes:
"But when they hand you over, do not worry about how or what you are to say; for it will be given you in that hour what you are to say. "For it is not you who speak, but it is the Spirit of your Father who speaks in you." (Matthew 10:19–20)
As followers of Christ, we do not need to worry about what we will do or what we will say. Christ promises that He will lead us and give us the words that we will need in that moment. Rather, what we are to do is purpose in our heart that our words and actions will be so focused on the glory of God, that it will be obvious to all that we are living for Him and not for our own well-being. Doing this will lead to their being a "cut to the quick" and possibly even the repentance of some. Notice these words from the murder of Stephen on account of his proclamation of the Gospel:
"Now when they heard this, they were cut to the quick, and they began gnashing their teeth at him." (Acts 7:54)
And it will lead to our joy:
"But being full of the Holy Spirit, he gazed intently into heaven and saw the glory of God, and Jesus standing at the right hand of God;" (Acts 7:55)
Beloved, let us think carefully about the coming persecution. Let us be a people that values what Christ wants us to value, and be thinking carefully about what we will do when trials show up at our door.